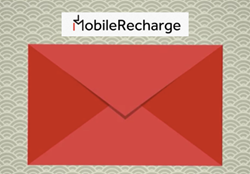 Love it, as it made mobile top up so easy! (Mustafa Barakzai on Trustpilot.com)
Atlanta, Georgia (PRWEB) January 23, 2017
MobileRecharge.com, the platform dedicated to expats of different ethnic origins worldwide, launches a Facebook contest for everyone who celebrates the beginning of the Fire Rooster Year, the Chinese New Year. The contest will be launched on January 23, 2017, it is called "Guess What's in The Red Envelope" and is open to anyone who wants to win a free top up: https://www.facebook.com/MobileRecharge.Fan/
The winner will be picked randomly on January 27, 2017, and will receive a 100% discount on an order placed on MobileRecharge.com. The free top up can be used to recharge someone's mobile in some other country or even the winner's mobile phone. The chance to win requires to add a comment starting January 23 to the video post on MobileRecharge.com Facebook page: https://www.facebook.com/MobileRecharge.Fan/
The fun contest on MobileRecharge.com Facebook page welcomes any expat interested to win a top up for a relative or friend. It starts on January 23, 2017, and welcomes entries until January 26, 2017.
The community on MobileRecharge.com Facebook page is a mixed one, made up of both men and women who live abroad, far away from their native country, and use the service on MobileRecharge.com to send mobile credit to their families and friends. Most of them are aged 25-35, but there is also a rich segment over 40.
An online top up on MobileRecharge.com takes few seconds to complete. And the amount recharged gets to the destination immediately, no matter the distance.
The website has been built and optimised per customer feedback. It is thus easy to use by experienced and inexperienced users. MobileRecharge app is also available at no cost in the App Store and Google Play for anyone willing to top up other mobiles on the go.
At the moment, MobileRecharge.com supports international top ups to more than 300 countries and more than 450 operators, among which: Orange, Claro, Cubacel, Movistar, AT&T, Tigo, China Mobile, Vodafone, Airtel, Unicorn, MTN, T-Mobile, Etisalat, Verizon, etc. Yet, more operators will be introduced in the future to satisfy all customer needs.
Those who have been using the service for years, appreciate several aspects about the service, as shown on Trustpilot and other review websites:
-No contract is needed to use the service
-The processing fee is the lowest on the global market
-The top up service is built to be flexible
-There are daily promotions
-Facebook giveaways are something common: https://www.facebook.com/MobileRecharge.Fan/
-Holiday offers are frequent
-Immediate customer support 24/7 is offered in Spanish, English and other international languages
-All transactions are available in one's account at any time
-There are no hidden fees
-The services applies the lowest processing fee on the global market
-Safety of transaction is guaranteed by the certifications on the website: Verified & Secured, etc.
-Transparency of communication with customers is part of their policy; the service is certified by BBB and Truste
-Video tutorials are available on YouTube and in one's account to support independent mobile top ups.
MobileRecharge.com is a website dedicated to expats worldwide, travellers or professionals who live abroad temporarily, or independent mobile top uppers. MobileRecharge.com is also the initiator of the first World Top Up Day in history, dedicated to top up givers worldwide as a generous social category. The website is a brand of KeepCalling, with more than 10 years of experience on the global market. The mother company is a telecommunications business registered in 2002 in the USA, listed by Inc 5000 as one of the fastest growing companies in the USA for 5 consecutive years. Presently, KeepCalling provides its services to hundreds of thousands of consumers, with a focus on customer satisfaction.