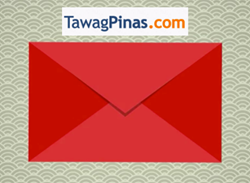 I bought a load for my sister in the Philippines from NY, and it came right away. I have been using tawagpinas.com for the last 4 years. (Gayle on Trustpilot.com)
Atlanta, Georgia (PRWEB) January 23, 2017
TawagPinas.com, the platform dedicated to Filipinos worldwide, launches a Facebook contest on "I miss Philippines" Facebook page, for everyone who celebrates the Fire Rooster Year (Chinese New Year) and wants to win free credit for calls from TawagPinas.com. The contest starts on January 23, 2017, and is like a guessing game for the whole community on I miss Philippines: https://www.facebook.com/ImissPhilippines/
The participants are required to leave a comment saying what they think it is in the Red Envelope. The challenge lasts between January 23-26, 2017, and the winner will be announced on January 27 on the same Facebook page: https://www.facebook.com/ImissPhilippines/
Anyone interested to win $10 Voice Credit for international calls to the Philippines is welcome to join the contest. The Voice Credit prize can be used for up to 101 calling minutes to the Philippines.
Voice Credit with TawagPinas.com offers low priced international calls from anywhere in the world to relatives and friends in the Philippines from abroad. Voice Credit can be used to make calls to other destinations than the Philippines as well. Plus, it never expires.
The rate to call landlines in the Philippines using Voice Credit balance is 9.9 cents/ minute, while a minute to mobiles there is 13.9 cents. In other words, $10 Voice Credit means up to 101 minutes to the Philippines.
Calling the Philippines and other destinations with TawagPians.com can be made in 3 different easy ways:
-From any phone (without 3G, 4G or WiFi), using local access numbers
-From KeepCalling app for smartphones available for iOS and Android devices
-From any laptop or computer, using the Web Call desktop application available in one's account on TawagPinas.com
The Pinoy expat community on "I miss Philippines" Facebook page is a mixed one, made up of both Filipino women and men living in the USA, Canada, Australia, and Europe, far away from their native country. They use the service on TawagPinas.com to call the Philippines and to send mobile credit to their families and friends. Most of them are aged 25-40, but there is also a generous segment over 40.
Besides international calls via Voice Credit, TawagPinas.com facilitates online top ups of mobiles in the Philippines. It takes seconds to complete a top up on TawagPinas.com. The amount loaded from one's account to someone's mobile phone gets to the destination immediately, no matter the distance in between. Operators that are now available for international mobile top ups to the Philippines are: Smart, Sun, and Globe. Others may be added in the long run, along with the dynamics of the local market and the customer feedback.
Most Filipino expats use the service on TawagPinas.com because of the low mobile recharge processing fee, and the low calling rates. But there are also other pluses, as reviews on Trustpilot.com show:
-The services have been built and optimised per customer feedback; that makes them easy to handle by both experienced and inexperienced users
-No contract is needed
-No hidden fees apply
-Thank You points are added automatically in one's account for every purchase on the website
-Free calling features are available in one's account to make calling even easier than it already is: PINless Dialing, Speed Dial, Auto Recharge, etc
-Customer Support is open 24/7 and is highly responsive
-The website is labeled as "Verified and Certified" for safe online payments
-Payment is possible with all major cards, as well as Paypal
-Payment is possible in any currency, according to the bank account of every customer
-All invoices are available in one's account, and calling history is displayed for the last 30 day
-Transparency of communication with customers is part of the policy; the service is certified by BBB and Truste
TawagPinas.com is an interactive website serving the Filipino diaspora. The website is a brand of KeepCalling, a global telecommunications company registered in 2002 in USA, that has launched the First International Homesickness Day in history. Presently, KeepCalling provides its services to hundreds of thousands of consumers and businesses, with a focus on customer satisfaction. KeepCalling was listed by Inc 5000 as one of the fastest growing companies in the USA for 5 consecutive years.