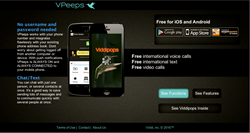 The new VPeeps app is bound to be a pop-culture game-changer.
Maryland (PRWEB) January 24, 2017
VIDDI LLC, an innovative mobile app development company announced today that they have released a new way to send customized video messaging. Utilizing mobile devices, this app and website allow users to express personal feelings via social sharing like never before and will change how users send videos via social media.
With the new VPeeps App, users can Group Video Chat, make World Voice Calls, Text/Chat and create Viddipops videos up to 10 seconds long that can be customized with thousands of themes. Whether a video message is for a wedding, engagement announcement, a love note, graduation, sports, any holiday, event or announcement, Viddipops has a themed ending to create a unique one-of-a-kind video message that will create a pop-culture "wow" factor.
"Because the new VPeeps App works with the contacts in the address book in your phone, users now have a private network to interact with friends and family, share photos, videos and more. VPeeps is 10 apps in one", said Ron Hunt, owner of VIDDI LLC.
VPeeps is a free app currently available on all Android phones via Google Play and also on the iPhone via Apple's App Store.
"This is going to change the way people send video messages with their mobile devices" said VIDDI LLC's Communications Director and owner of internet marketing firm B2B Resource Team LLC, Greg Jordan. "We are so proud of this concept and the wide range of subjects in Viddipops videos that users will have access to via the VPeeps app. Users may have seen the ability to send video message and loops before but never quite like this."
VPops: This feature allows users to navigate the easy-to-use interface that will give them access to hundreds of different themes to select. Once they pick the theme, they can upload a picture or record a video that will blend with the Viddipops video to send to a special person or to blast out to any social network they select. A video can be up to 8 seconds long; if the length is shorter the app will automatically adjust the Viddipops ending to the desired length. The videos can be one continuous shot or they can be paused to capture numerous shots within the 8-second maximum length. Videos can also be sent via email and text messages.
If a user simply wants to send one of the Viddipops videos, they can do so with the feature called VPoppers.
Personal VPops: This feature allow the app users to add their own text into a Viddpops video to create genuine customized user generated content.
"I am certain this type of themed customized video sharing is going to create a new genre and mindset of how people use video cameras on their devices" said Ron Hunt. "Viddipops will be the new way very special moments in time are shared with co-workers, friends and family."
VIDDI LLC is also developing plans to have customized Viddipops videos available for corporate sponsorship using the proprietary Viddipops technology.
In addition to the video features, there are over a dozen additional options offered on the app including GPS, weather, customized themed photo frames and more. To see all the features users will have access to: Click here to see how it works
About VIDDI, LLC.
VIDDI LLC is an innovative mobile application and website developer focused on changing the way users engage in social media creating a platform that encompasses all the abilities of the top social networks in the market today, but has made the user experience more enjoyable by having the top priority set on not exploiting the users private information.
The VPeeps app has been in development since early 2012 created by an experienced software development team focused on making this app the go-to app for customized video sharing on mobile devices.
The company is headquartered in Capitol Heights, MD and was founded in 2010. VIDDI LLC currently has offices in Maryland, and Florida
Follow us:
Twitter: @Viddipops
Facebook: https://www.facebook.com/viddipops
Website: http://www.vpeeps.com
Media contact:
Greg Jordan
Communications Director
VIDDI LLC: 1-888-766-4868