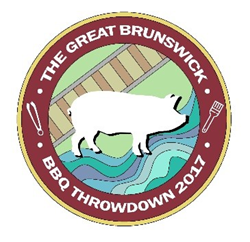 Brunswick, MD (PRWEB) January 24, 2017
Brunswick is changing, for the better. We're increasing businesses in our downtown and really focusing on the cornerstone, our Brunswick Heritage Museum. The recent addition of a craft brewery and our very popular café built inside an old church, the Museum is an important cornerstone in that positive change. This event, the evening of March 3rd and during the day March 4th, will involve our downtown, professional BBQ competitors and plenty of fun for families. This event is designed to help the Museum this year but the long term goal is to make this an annual event and to help other Brunswick non-profit organizations.
To accomplish this event successfully, we are seeking the help of sponsors. Sponsors may receive tax benefits depending on their level and choice of sponsorship options, but we will certainly receive exposure through marketing and advertising for the event. The top options are split between a tax-deductible donation directly to the Museum and a business expense (ie. Radio advertising with FM 99.9 WFRE, print or web visibility with The Frederick News Post and digital exposure with Comcast. The top levels are attached and I would love the opportunity to talk about them or discuss the second option as an in-kind donation.
This event has been put together by volunteers to benefit our museum, to help them in maintaining a 100 plus year old building and improving the quality of exhibits and the overall visitor experience. The Museum has been recognized by among others the Frederick County Tourism Council as a significant tourism destination for both the county and Brunswick. As such, the Museum will again be hosting a traveling Smithsonian exhibit this year. Donations to the Museum are a significant source of it's operating funds and always a blessing, allowing the Museum to serve as the City's Welcome Center and share the City's proud heritage.
The event will bring teams to compete from all over the country as a KCBS (Kansas City Barbecue Society) sanctioned event, bring food vendors, 'backyard competitors', encourage families to spend time in the kid's zone, plus multiple beer stations and giveaway vendors. Competitors will cook all night and the festival event starts Saturday morning at 10am, ending at 5pm.
Additionally, for our Museum, to show them the recognition they deserve, they will be the entity named on a world record attempt 'number of people blowing a train whistle at the same time' (currently 1,569) Saturday afternoon. They deserve our attention and this record will help them make history, with our help – and yours.
Please help us make this event a HUGE, and successful annual fundraiser. Levels starting at $3,000 down to $250 are available and all come with a free vendor space. We expect several thousands of attendees, over 30 competing teams, food vendors and great family fun. WFRE will be broadcasting during the day, announcing the competition winners and helping to lead the World Record attempt as well. It will be a game changer for our community.
Sponsorship opportunities include:
Smoker Level ($3K – 50/50 cash/in-kind/direct expense) – (7 spots)
(3 sponsor opportunities) WFRE Sponsorship ($1500 to WFRE)
(1 sponsor opportunity) WFRE web banner advertising ($1500 to WFRE)
(1 sponsor opportunity) Frederick News Post advertising ($1500 to FNP)
(2 sponsor opportunities) Comcast advertising ($1500 to Comcast)
Listed main sponsor on printed and media publicity and (possible event shirts), banners
Logo on website (hyperlink) and poster
Included in all 'swag' to participants
Contact info for all vendors to solicit them and them to you and your sponsorship will give you "preferred status" for vendors (example: shop here, order from here, etc)
Business banner displayed during awards ceremony
Free vendor booth
Flame: ($2K – up to half in trade/purchases) – 4 available
Listed as 2nd level sponsor on printed and media publicity and (possible event shirts), banners
Logo on website (hyperlink) and poster on secondary listing
Contact info for all vendors to solicit them and them to you and your sponsorship will give you "preferred status" for vendors (example: shop here, order from here, etc)
Business banner located throughout event in traffic location
Free vendor booth
Pellet ($1K – up to half in trade) – 20 available
Listed as 3rd level sponsor on printed and media publicity and (possible event shirts), banners
Logo on website (hyperlink) and poster
Included in all 'swag' to participants
Free vendor booth
Charcoal (unlimited) $500 – up to half in trade or in-kind
Listed as 4th level sponsor on printed and media publicity and (possible event shirts), banners
Logo on website (hyperlink) and poster
Included in all 'swag' to participants
Free vendor booth
Propane ($250) – unlimited – up to half in trade or in-kind
Literature in "swag" bag for all competitors and vendors
Free vendor booth