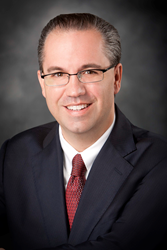 Jim's diverse experience ... has served us well. He'll do an outstanding job.
SARATOGA, Calif. (PRWEB) January 23, 2017
Alain Pinel Realtors (APR) today announces Jim Pojda, the company's South Bay regional director for career development since 2010, will now serve as vice president, regional director of career development. Pojda will also expand his duties to include special corporate projects.
"Today's announcement regarding Jim's promotion is another part of our growth strategy for 2017," said Paul Hulme, president, founder and CEO of APR. "Jim's diverse experience in sales, marketing, technology, mentorship and training has served us well as we've brought in new agents, and I know he'll do an outstanding job for us in his new, expanded role."
Pojda will continue in his primary role as South Bay director of career development in charge of master's training for the region, according to Hulme.
"I'm honored to accept this new, expanded role with APR and to take the successes we've seen in the South Bay and translate them across the entire company," said Pojda.
Pojda began with APR in 2004 as a Realtor, serving in that capacity for six years before becoming a regional director of career development in 2010. He is also a licensed broker. Prior to joining APR, he served as vice president of business operations for TechPointer Inc., having held a variety of marketing and business technology development positions previous to that role with organizations such as IBM Corporation and Comerica Bank. Pojda is also a long-time volunteer and officer with Kiwanis International.
At the beginning of January, Pojda also began a three-year term as a member of the California Association of Realtors Strategic Planning and Finance Committee.
About Alain Pinel Realtors®
Alain Pinel Realtors (APR) is the sixth largest residential real estate firm in the United States and the largest privately owned residential real estate company in Northern California based on its closed-sales volume. The firm has 1,400 agents in more than 30 offices throughout Northern California. APR was founded in 1990 by CEO and President Paul L. Hulme, and is based in Saratoga, Calif. Visit us at apr.com, china.apr.com, facebook.com/AlainPinelRealtors, and @AlainPinel.