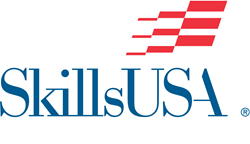 Through excellence and competition, SkillsUSA encourages real world training, and in the process, lays an amazing foundation for thousands of careers in the skilled trades. Simply put, SkillsUSA works
Leesburg, Va. (PRWEB) January 24, 2017
SkillsUSA and the mikeroweWORKS Foundation are teaming up once again to increase opportunities for SkillsUSA students to attend the National Leadership and Skills Conference in Louisville, Ky., June 19-23. This is the seventh year that the mikeroweWORKS Foundation has offered travel scholarships to SkillsUSA members who compete and place first in their state's SkillsUSA Championships but face a financial challenge in attending the national SkillsUSA Championships. Any SkillsUSA 2017 national competitor who meets the financial criteria can apply.
"This is an amazing sponsorship for deserving students," said SkillsUSA Executive Director, Tim Lawrence. "Our students are so grateful for the support they receive from the mikeroweWORKS Foundation. These students will be our nation's future skilled technical workforce, and they deserve this opportunity to showcase the skills that will contribute to a robust economy. SkillsUSA is a verified talent pipeline and a skills gap solution. Now more students can demonstrate their skills because of this generosity."
The mikeroweWORKS Foundation provides travel scholarships for eligible students to attend the national SkillsUSA Championships, who are in pursuit of an education in a high school or college/postsecondary technical program, allocated by geographic distance from Louisville, Ky. Scholarships will be awarded based on a student-written narrative describing why the student needs the financial assistance – including the lack of school or community resources, how the student benefited by participating in SkillsUSA, and why the student chose to study his or her particular technical skill. Applicants must also provide a written recommendation from their instructor or state association director.
"The skills gap is not only real, it's a reflection of what we value," said Mike Rowe. "To close the gap, we need to change the way the country feels about work. My foundation supports SkillsUSA because it celebrates the kind of skills that are actually in demand. Through excellence and competition, SkillsUSA encourages real world training, and in the process, lays an amazing foundation for thousands of careers in the skilled trades. Simply put, SkillsUSA works."
Applicants can apply online at: http://www.skillsusa.org/membership-resources/scholarships-financial-aid/the-mikeroweworks-foundation-competitor-scholarship/. All applications must be received by close of business on Friday, May 26, 2017.
Since 2011, the mikeroweWORKS Foundation has provided scholarship support to 352 SkillsUSA students, representing an investment of more than $355,000 in America's future skilled workforce. The mikeroweWORKS Foundation focuses on students who are working toward careers in manufacturing, construction, automotive, and other STEM-related trade occupations. The 2017 total scholarships to be awarded and total contribution will be announced prior to the SkillsUSA Championships. This year's scholarship award amounts will be determined by the student's geographic travel distance to Louisville, Ky. The winners will also have the opportunity to meet with a member of the mikeroweWORKS Foundation staff at conference. In 2016, 89 students were awarded scholarships for a total amount of $90,000, which included support from Koch Industries and the Charles G. Koch Charitable Foundation.
About SkillsUSA
SkillsUSA is a vital solution to the growing U.S. skills gap. This nonprofit partnership of students, instructors and industry ensures America has the skilled workforce it needs to stay competitive. Founded in 1965 and endorsed by the U.S. Department of Education, the association serves more than 300,000 member students and instructors each year in middle schools, high schools and colleges. This diverse talent pipeline covers 130 trades, technical and skilled service occupations, the majority STEM-related. More than 600 corporations, trade associations, businesses and labor unions actively support SkillsUSA at the national level. SkillsUSA programs are integrated into career and technical education through a framework of personal, workplace and technical skills grounded in academics. Local, state and national championships, designed and judged by industry, set relevant standards for career and technical education and provide needed recognition to its students. SkillsUSA also offers technical skill assessments and other workplace credentials. For more information, go to http://www.SkillsUSA.org.
About the mikeroweWORKS Foundation
The mikeroweWORKS Foundation is a 501(c)(3) public charity that works hard to debunk myths about the skilled trades and help close the skills gap. As CEO of the Foundation, Mike Rowe speaks regularly about the country's dysfunctional relationship with work, the widening skills gap, and challenging the persistent belief that a four-year degree is automatically the best path for the most people. Through its scholarship programs, including the Work Ethic Scholarship Program and the SkillsUSA Travel Scholarships, the Foundation provides financial assistance to people getting trained for skilled jobs that are in demand. The Foundation has helped grant more than $3 million in education for trade schools across the country. For more information, go to: http://www.mikeroweworks.org.
# # #