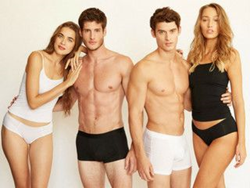 "From newly developed and patented fabrics, to developing a better waistband, Tani is focused on finding ways to make our amazing products even more comfortable."
Brooklyn, NY (PRWEB) January 25, 2017
Tani USA, a upscale basics and luxury loungewear company has designed and developed a revolutionary new waistband that uses natural rubber to improve comfort and reduce irritation associated with traditional elastane waistbands.
The company launched a crowdfunding campaign this month on Indiegogo because this is a great way support production and bring our new waistband to market. It also gives existing and new customers a way to be involved in the development of our latest innovations.
Supporters of the crowdfunding campaign can choose different perks ranging from $35 to $100. Each option includes the next generation of Tani's best selling SilkCut Classic Boxer Briefs at up to 50% off retail. Tani's SilkCut Collection has received industry accolades for their amazing Micro Modal™ Air fabric, which is literally thinner and finer than silk.
"We strive to set a new standard in underwear. We do this through innovation in every aspect of our garments." says Adam Dinkes, President of Tani USA. "We are the only underwear brand that remains focused on innovation" says Dinkes. "From newly developed and patented fabrics, to developing a better waistband, Tani is focused on finding ways to make our amazing products even more comfortable."
"We are especially excited about our new waistband. Using a patented technology that blends the soft stretch and recovery of natural rubber with the durability & lightness of Japanese micro elastane, we've created a completely new waistband that simply feels better and fits unlike any other. Our new waistband is guaranteed to be more comfortable and less constricting than any other pair in your drawer. It eliminates redness, grip marks, irritation & rashes at the waistline." says Dinkes.
For more information, visit the Tani USA Campaign Page on Indiegogo.
ABOUT TANI USA
Our singular mission is to set a new standard in upscale basics and luxury loungewear. We aim to create the world's best and most comfortable undergarments that change the way you think and feel about underwear.
To design and create our collections, we source fabrics around the world that are both rare and newly innovated. We employ unique knitting technologies to produce the finest, softest and smoothest fabrics. And the quality of its performance is as high as the quality of its feel.
Tani USA is available exclusively through their website.
MEDIA CONTACT:
Jeremy Lindy
610-283-8785
pr(at)taniusa(dot)com
http://www.TaniUSA.com