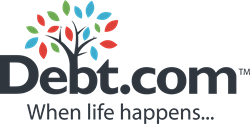 Debt.com is asking viewers to vote for the commercial they want to see air on TV.
FORT LAUDERDALE, FL (PRWEB) January 24, 2017
Debt.com, the online personal finance solution company, announces a new marketing campaign that lets the public decide which Ryan Lochte TV commercial will launch first. Debt.com is asking viewers to vote for the commercial they want to see air on TV. All they need to do is visit Debt.com's Facebook Promotion Page, vote for the advertisement they find most intriguing and they can enter to win $1,000.
Lochte says he's excited to appear in Debt.com ads that help Americans get a fresh start with their finances. "Debt.com gives Americans a chance for a new beginning, and I'm happy to be involved with a company that's helping them get back on their feet and move forward," Lochte said. At his direction, a portion of his proceeds from his Debt.com endorsement will be donated to Parent Project Muscular Dystrophy.
Debt.com matches consumers' financial needs to the perfect solution. They specialize in credit card debt, student loan debt, tax debt, credit correction, identity theft and more. Debt.com is staffed by journalists and industry experts. Collectively, they have more than a century of experience in the personal finance field and their trusted network of providers has helped millions of Americans resolve financial hardships. When people are ready for their second chance, Debt.com has the solution.
About Debt.com: Debt.com is a consumer website where people from all walks of life can find help with credit card debt, student loan assistance, credit monitoring, tax debt, identity theft, credit repair, bankruptcy, debt collector harassment and more. Debt.com works with only vetted and certified providers that give the best advice and solutions for consumers 'when life happens'.
MEDIA CONTACT:
Debt.com: Michelle Bryan MBryan(at)Debt(dot)com 646-373-5072