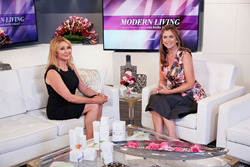 Oridel's Anti Aging System is like a 'little black dress of skin care' - Simple, Effective, Affordable!
LOS ANGELES (PRWEB) January 24, 2017
Modern Living with kathy ireland® announces an exclusive story featuring Oridel Founder and President, Marina Oridel, who will introduce a new skincare line that delivers on the promise of beautiful, healthy, younger-looking skin.
Oridel is a skincare company that has created a revolutionary anti-aging product line. The collection delivers cleansing, exfoliating, moisturizing, toning, tightening and protective properties that allow people to enjoy a youthful appearance and healthy-looking skin. Oridel is headquartered in East Northport, New York.
Oridel says that new skincare products are everywhere today, so it can be difficult to determine which ones actually work. She explains, "Women are bombarded constantly by advertisements on television, by advertisements from fashion magazines. And women remain confused because there's no authority that tells them and guides them through the journey of starting the skincare treatment and watching their skin improve in the days to come. The Oridel skincare line is not cluttered. It's a skincare line that has just about 17 products. The system is extremely easy, and simplicity is key because what I deliver to my clients is what they want. And they want celebrity-like skin."
JL Haber, Vice President of Programming for Modern Living with kathy ireland®, couldn't be happier to feature Oridel. He says, "In a time of skincare products becoming a dime a dozen, Oridel stands out. They have taken a unique approach to skincare, offering top-of-the-line ingredients in all of their products. It's no wonder that people come back to order Oridel products again and again. We're so thrilled to have Oridel on our show."
For more information about this unique line of skincare products, visit http://www.Oridel.com and tune into E! Entertainment as sponsored programming on Thursday, January 26, 2017 at 6:30am EST/PST. The full interview can also be seen here.
About Modern Living with kathy ireland®
Modern Living with kathy ireland® is a weekly business television program featuring real-world insights from corporate executives from all over the globe.
Modern Living with kathy ireland® airs Thursday mornings throughout North America on E! Entertainment Network as part of their sponsored programming lineup and to over 50 countries throughout the world on Sundays on Bloomberg International as part of their sponsored programming lineup.