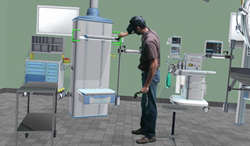 Virtual Reality has made it economically feasible to display entire product lines, in a small footprint, at a fraction of the cost. - Mike Belongie
Minneapolis, Minnesota (PRWEB) January 24, 2017
Axonom, a global provider of cloud-based visual product configurator software, today releases Powertrak VRoom, a virtual reality (VR) mobile showroom. VRoom delivers the immersive power of virtual reality for businesses to showcase configurable products and environments at trade shows and customer experience centers.
Powertrak VRoom offers manufacturers, distributors, and retailers an affordable, portable and reproducible way to present and communicate product information more effectively and efficiently to prospective buyers at various locations.
"For many exhibitors, it's an arduous task deciding how and what products to present at trade shows without breaking the bank. Shipping, drayage, and labor fees are notoriously expensive; decimating the ROI," said Mike Belongie, COO at Axonom. "VR has made it economically feasible to display entire product lines, in a small footprint, at a fraction of the cost."
Powertrak VRoom brings the dealer showroom to the target audience. This interactive, brand engagement experience enables prospective buyers to visualize and explore large-scale products and environments that are logistically and/or economically impossible to display on the trade show floor.
"Virtual Reality is a game changer for exhibitors with large product catalogs. Imagine the response of a heavy equipment machinery manufacturer presenting its extensive line of loaders, lifts, trucks, and excavators in seconds. Or the reaction of executives touring a series of 1,000 square foot data center layout designs, from within a 10'x10' exhibit space. Immersing key decision makers in a stunning three-dimensional environment, on the trade show floor, is an absolute competitive advantage," Belongie adds.
For those interested in learning how to use virtual reality in the sales process, and improve communication, education, and interaction with their target audience are asked to contact Axonom or visit them at the following trade shows.
About Axonom
Axonom is a worldwide leader in marrying Visual Configure, Price, Quote (CPQ) software with Virtual Reality (VR) experiences. Established in 2002, the developer of Powertrak 3D Product Configurator and VRoom enables sales, channel partners, and customers around the world to visually build products and design environments, then experience it in virtual reality.
Enriched with mobile extendibility, the Powertrak solution suite includes: Configure-Price-Quote, 2D/3D Visual Product Configurator, Virtual Reality Product Configurator, Guided Selling, and Web Portals. By delivering more transactions more efficiently through channels at a lower cost, Powertrak helps customers achieve greater profit potential. For more information, please visit http://www.axonom.com.