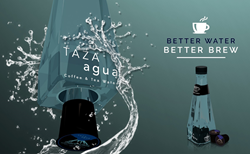 Our innovative bottle designs put coffee roasters in total control now. They can match their coffee with premium water, and create a competitive edge.Francini Retana – co-founder Taza Agua
(PRWEB) January 24, 2017
Today, Taza Agua, Costa Rica's leading supplier of pure premium water, has officially unveiled its latest award-winning bottles, designed specifically to optimize the drinking experience for K-Cup coffee, tea and hot chocolate connoisseurs around the world.
Taza Agua is renowned for introducing the world's first untouched bottled water purposed exclusively for creating a superior brew. The company combines its natural, top-class water with an exquisite selection of coffee, cocoa, and tea, providing consumers with perfectly convenient, ready-to-go drinks.
Now, it is taking the world of high-quality beverages by storm once again with its brand new, state-of-the-art bottle design, developed by Taza Agua's own Research and Development team. The addition of a cleverly-created special cavity section into which any K-Cup pod can be effortlessly inserted helps to further enhance the world-class taste experience that Taza Agua has already earned an international reputation for delivering.
With the 100% all-natural volcanic spring water sourced from a pristine natural habitat in the mountains of Costa Rica, K-Cup drinkers who take advantage of the patent-pending bottles will instantly notice the improved taste of their beverages. According to Taza Agua Co-Founder Francini Retana, the next-generation bottles deliver the highest level of consumer-powered quality control by guaranteeing that only the best water is used in each brew.
"We're delighted that our dynamic team have done it again,"she expressed. "Our new bottle system dramatically enhances the overall enjoyment of K-Cup drinks. After all, water is the most important component in every hot beverage, constituting up to 98% of the final drink. Farmers, roasters and manufacturers of coffee makers have worked tirelessly for decades to improve their products, with zero control of the most critical component of the brewing process - the water. Now, they have options."
She added that part of the appeal of Taza Agua's latest offering is the water's natural low-sodium content, coupled with the perfect balance of magnesium and calcium, giving it a majestic taste that's incomparable.
With 9 billion K-Cups sold annually, Taza Agua is confident of 2017 being a record-breaking year for their brand. Their bottle system is opening doors for a multitude of exciting new partnerships and licensing agreements with leading coffee and cocoa bean firms, major distributors, and expert roasters. New partnership opportunities are also on the horizon with the world's biggest hot beverage franchises, retailers, specialty coffee stores, and hospitality providers such as cruise line companies. A select number of interested parties have already been arranging combined land and helicopter tours of Taza Agua's coffee judge-approved bottling facilities.
About Taza Agua:
Based in Costa Rica, Taza Agua is the world's first company to bottle water exclusively for brewing coffee, tea, and hot chocolate. Now, it has invented a groundbreaking K-Cup compatible water bottle system -the perfect all in one solution for coffee pod machines and roasters. Taza Agua meets or exceeds coffee maker manufacturers recommended water use guidelines. Visit: http://www.tazaagua.com/