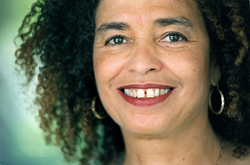 Salt Lake City, Utah (PRWEB) January 23, 2017
Salt Lake Community College will host the "Women In Freedom Movement" forum Feb. 8, 7-8:30 p.m. at the Grand Theatre, located at Center for Arts & Media on the SLCC South City Campus, 1575 S. State Street in Salt Lake City.
The Women In Freedom Movement forum examines the black freedom struggle in America from the female perspective. Panelists for this free public event include Angela Davis, Kathleen Cleaver and Margaret Burnham, with Michele Goodwin moderating the evening's discussion that will cover the Civil Rights Movement of the 1960s and 70s in America and around the world. This is a rare opportunity to hear these prominent scholars and activists who have been influential to changing both the nation and the world. The trail-blazing contributions of Martin Luther King, Jr., Malcolm X and Huey Newton are widely known, but equally strong black female activists like these featured panelists worked to educate and motivate people to embrace civil action.
Davis is a Distinguished Professor Emeritus at the University of California Santa Cruz, and she has authored eight books and lectures throughout the United States, Europe, Africa, Asia, Australia and South America. Cleaver is the co-director of the Atlanta-based Human Rights Research Fund, part of a network of anti-racist organizations engaged in documenting violations of the human rights of U.S. citizens who challenge the racist and military policies in this country. Burnham is a law professor specializing in civil and human rights, comparative constitutional rights and international criminal law. Goodwin is a Chancellor's Professor of Law at the University of California, Irvine and is the founder and director of the Center for Biotechnology and Global Health Policy at UC Irvine School of Law.
Salt Lake Community College is an accredited, student-focused, comprehensive community college meeting the diverse needs of the Salt Lake community. Home to more than 61,000 students each year, the College is Utah's leading provider of workforce development programs. SLCC is also the largest supplier of transfer students to Utah's four-year institutions and a perennial Top 10 college nationally for total associate degrees awarded. The College is the sole provider of applied technology courses in the Salt Lake area, with multiple locations, an eCampus, and nearly 1,000 continuing education sites located throughout the Salt Lake Valley. Personal attention from an excellent faculty is paramount at the College, which maintains an average class size of 20.