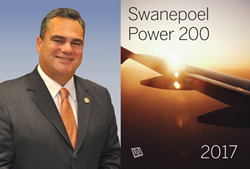 It is an honor and privilege to represent our company for the fourth consecutive year.
Sunrise, FL (PRWEB) January 25, 2017
Rei L. Mesa, President and CEO of Berkshire Hathaway HomeServices Florida Realty, has been named by the Swanepoel Power 200 as one of North America's most powerful and influential residential real estate industry leaders for the fourth year in a row.
Swanepoel's annual study takes into consideration multiple types of data points among the leaders in the residential real estate industry as well as the financial resources of the company or organization, the organization's significance and contribution to the industry, the company's geographic reach, the individual's personal influence, tenure, office, the decision-making power, the financial resources at their disposal, and public announcements about pending changes.
The SP200 list identifies the leaders from Corporate Executives, Power Brokers, Women Leaders, Technology Executives, Association / MLS Executives, Outside Powers, Trendsetters, Emerging Leaders, and Social Influencers that have the most power and influence to impact the residential real estate brokerage industry which included nearly 1,000 contenders.
"I commend the Swanepoel organization for their ongoing dedication and meticulous analysis to identify and recognize those who make noteworthy contributions to our noble and revered industry and profession," said Mesa. "It is an honor and privilege to represent Berkshire Hathaway HomeServices Florida Realty for the fourth consecutive time. I share this recognition with all of our hardworking Sales Professionals, Leadership, Executive, and Support Team."
Berkshire Hathaway HomeServices Florida Realty is a full-service brokerage with approximately 1,800 Sales Professionals servicing 19 counties throughout Florida and is a wholly owned subsidiary of WCI Communities, Inc. It is a franchise member of Berkshire Hathaway HomeServices. The company is the 5th largest brokerage in the nation among the affiliate Network brokers and offers residential and commercial services, seasonal rentals, property management, REO & Foreclosures, corporate relocations, referral services, title, insurance, home service plans, and personal concierge services. BHHS Florida Realty is the #1 Fundraiser for The Sunshine Kids having raised over $3.1 million since 2001.