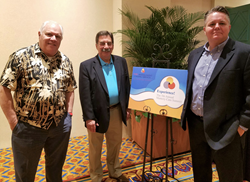 "The way we care for seniors now won't be the way we do it in just a few years." Jeff Tallman
(PRWEB) January 25, 2017
Last week, memory care professionals from around the United States converged on Orlando, Florida for the 5th Annual Memory Care Summit. The conference is organized by The UMBC Management of Aging Services and this year's theme was focusing on the experience that people are having in memory care facilities. Their goal; identify ways to "Create an Experience" that helps improve the lives of the residents who live there, their families and even the employees who care for them.
Jeff Tallman is the CEO of LifeCenters Development Group in Franklin, TN and he and his team attended the conference seeking insight. "I was surprised to see that the first speaker was a teacher from the Disney Institute, Mark Matheis. Mark started at the ground level with how we hire, how we train and the culture we set for our employees. The conference was held at a Disney Resort but I hadn't thought about how their experience would transfer over to our industry."
Tallman explained that Disney starts from Day One establishing the culture of the workplace and as they show their genuine care and respect for their "cast members" (employees) those efforts are inherently passed on to their customers. He sees a direct correlation to the efforts of the entertainment giant and the entire field of senior care. "If you are running an Assisted Living community your customers are the people who live there and their families. Extending that same level of focus to your employees might not be the industry norm but those actions directly contribute to the quality of life provided for the residents."
Other sessions at the conference included, The Future of Financing Memory Care, How to Measure Impact (Resident Satisfaction), interviews with families who are dealing with Alzheimer's and more.
Jeff said he thought it was crucial that his team attended the conference to help stay on top of industry trends. "LifeCenters brings people together to create amazing communities focused on helping seniors change the way they live life. We find the land, work with investors, community operators, builders and others to create places where people can connect and thrive in a place that feels like home. Our vision is for the residents to be surrounded by the energy and opportunities available just off campus. We buy more land than we need and include other uses such as a Medical Office Building, a restaurant or a coffee shop. This allows the people in Assisted and Independent Living to have something else to do nearby."
I commented that this seems like a new concept and I hadn't seen this model before. Jeff replied, "The way we care for seniors now won't be the way we do it in just a few years. It's up to us to anticipate those demands and be ready with beautiful communities where people can engage and thrive. Our team consists of accomplished property developers, brilliant analytic minds, Executive Directors of Assisted Living communities and people whose sole task it is to take care of our investors. We are on the leading edge of this industry and coming to conferences like this is a part of helping us stay that way." Tallman went on to say, "Dr. Ronch and The Erickson School put this conference on every year, they help all of us stay ahead of the curve and provide the best possible care to the people who live at our communities. We are grateful to them."
Taking care of an ever increasing senior population is a task that many experts think we are behind the curve on, it is encouraging to see a large group of professionals working hard on being out in front of those challenges.