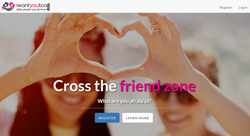 Calgary, Alberta (PRWEB) January 31, 2017
iwantyoutoo.com launched in Calgary, Alberta this year by DW Group to help people who have a crush on someone they know but are unable to confess their love or admiration. The platform's initial release was on college campuses and students are currently using the platform to send flirtatious messages. The site enables a secret admirer to contact and communicate anonymously with their person of interest or secret crush. If the feelings are mutual, a match is made and iwantyoutoo.com will let both parties know and wish them happiness going forward.
How does iwantyoutoo.com work? Let's say a secret admirer likes someone and wants to know if the feelings are mutual without approaching them directly. They can simply sign up to iwantyoutoo.com and send the person they like an anonymous personalized message by adding the person's email address on the site. The person of interest will then receive a message from iwantyoutoo.com telling them that they have a secret admirer. With their interest sparked, they go to iwantyoutoo.com to start chatting with the anonymous secret admirer. The person of interest then adds the email address of the person or persons they are interested in. If one of them is the the secret admirer, iwantyoutoo.com will let them both know by revealing their email addresses to each other. Otherwise, no harm done and the secret admirer remains anonymous.
iwantyoutoo.com aims to be a fun dating platform for people who in fact know each other and have hidden feelings. Traditional dating sites match strangers together much like a blind date would be arranged. While popular, finding a match with the right chemistry is a daunting task. iwantyoutoo.com aims to solve this problem by tapping into the user's real life network to see if there are hidden matches or possibilities they may not be aware of or are too shy to explore. The premise is that dating people a person in fact knows is much more rewarding than dating strangers.
Life's situations that would warrant the use of iwantyoutoo.com are many and have been experienced by everyone at one time or another. Perhaps best friends who could be more, shy classmates gazing from afar, or risk averse coworkers. By using iwantyoutoo.com an admirer can now safely confess their feelings and explore possibilities without risking the awkwardness of ruining a friendship or getting into trouble.
Benefits of the platform are twofold, helping people connect in a situation where they would not normally be able to, and helping people find closure when needed. If a match isn't made, then a user gains the closure they need to move on with their lives. No longer will they wonder, what if? And think of the one who got away as a lost opportunity.