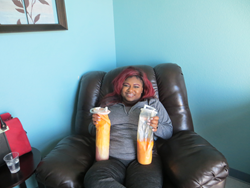 We're so happy to be able to offer this life changing procedure to help such a deserving individual.
Las Vegas, NV (PRWEB) January 25, 2017
With over 10,000 entries to their "Free Lipo Contest," MyShape Lipo recently made their announcement for the winner, Brittany Rodgers. The 26 year old cosmetologist from Houston Texas, flew out to Las Vegas to accept her prize of 3 free areas of liposuction at MyShape Lipo. Her procedure was performed just a few short hours following her live interview on FOX 5 More Show.
"I'm so excited to be here, I'm so grateful to MyShape Lipo for hosting this contest to give people like me hope," says Brittany. "I've been following them for over 4 years and finally my day has come.
Rodgers works in the beauty industry and helps her clients look better everyday. Yet she lacked confidence in herself secondary to her excess weight. She's tried multiple diet and exercise routines, but nothing seems to help for the long term. Her failures have lead to disappointment and lack of motivation.
The contest has been ongoing for the past 5 months with over ten thousand people from across the country entering for their chance to win back their confidence through liposuction. MyShape Lipo has promoted the contest heavily through social media. They've built an active social following that is highly engaged with their content.
"This has been a long time coming," says Trevor Schmidt PA-C the owner and liposuction specialist at MyShape Lipo. "We're so happy to be able to offer this life changing procedure to help such a deserving individual."
Brittany was the eighth winner that MyShape Lipo has announced in the past 4 years. They've had multiple formats to their contest, but this one required the contestants to be involved in order to qualify for the prize. Once entered, the contestant would be asked to complete simple tasks such as sharing a Facebook post or watching a YouTube video.
The contest is ongoing and MyShape Lipo has already said that they will be announcing another winner in the near future. Those interested can enter the contest through the MyShape Lipo website. They have promoted the contest through multiple social channels including Facebook, Twitter, YouTube, Instagram, SnapChat, Pinterest and Tumblr. They are active and engaged with followers on all of these channels.
Brittany's procedure went very well. She had her abdomen treated to permanently remove nearly 3 liters of pure fat. The results were obvious quickly as her belly shrunk and the overhang of her stomach disappeared immediately.
"I can't believe that this is real," says Rodgers. "All my friends and family are waiting to see what I look like and they want to get their fat sucked out too. MyShape Lipo has completely exceeded my expectations."
Rodgers was welcomed to MyShape Lipo with an enthusiastic staff and a bouquet of balloons to peak the excitement. On the day of her procedure the entire staff was dedicated to creating an unforgettable experience that Brittany will remember forever. Eliminating her belly, the root of her problems, should have an immediate impact on her self image and confidence.
"It's exhilarating to have the ability to affect a person's life and give them the hope and motivation that has alluded them," says Schmidt. "We are very fortunate to have so many happy patients that help spread the word about our services."
About MyShape Lipo
Established in 2010, MyShape Lipo specializes specifically in liposuction and fat transfer. Trevor Schmidt PA-C, the liposuction expert and owner has performed well over 15,000 procedures on patients of all shapes, sizes, young and old. They have the experience to achieve consistently smooth and dramatic results to change the lives of their patients. The fat can be permanently removed in a few short hours to elicit dramatic improvements in confidence. To enter their "Free Lipo Contest," visit them online at http://www.MyShapeLipo.com. They offer a free consultation, call now, 702-818-5476.