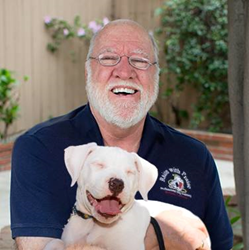 If you want a happy, confident, well-mannered dog, this DVD is a must have! Victoria Stilwell Best–Selling Author and Host of Animal Planet's It's Me or the Dog
Los Angeles, California (PRWEB) January 31, 2017
Best-selling author and professional dog trainer Paul Owens has released a comprehensive, family-friendly, instructional DVD and handbook that offers step-by-step instructions from the moment the dog's paws hit the floor. The Welcome Home! Ultimate Guide is especially designed to help people and their family dogs enjoy the often stressful transition of the adoption process by teaching adopters exactly what to do and how to do it and making the process fun and part of everyday life.
The Welcome Home! Ultimate Guide's format both educates and motivates and consists of an hour-long program, plus a 12-page Quick Start Guide packed with all the basic and most up-to-date information available to keep new arrivals safe and get his or her new life off to the best start possible.
Instructions include how to set up a safe home, housetraining, teaching behaviors of sit, down, come, go-to-bed, find-it, leave-it, drop-it, proper socialization, and much more. Health care tips include the most up-to-date information on what to feed your your dog, vaccinations, and spaying and neutering.
Often referred to as the "original" Dog Whisperer, Owens is known worldwide for his compassion-based, force-free training methods and recently celebrated his 40 year anniversary as a professional dog trainer. He is the author of the trilogy, The Dog Whisperer, The Puppy Whisperer and Good Habits for Great Dogs.
Acclaimed by world-reknown trainer and television personality Victoria Stillwell as a "must have," The Welcome Home! Ultimate Guide for all Newly Adopted Puppies and Dogs has a SRP of $24.95 and is sold on http://www.amazon.com and Owens' website: http://www.originaldogwhisperer.com