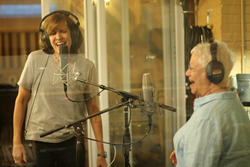 New York, NY (PRWEB) January 24, 2017
Jazz vocalist and songwriter Sarah Partridge http://sarahpartridge.com announces the release of her sixth CD, a salute to the legendary singer/songwriter, Janis Ian http://www.janisian.com. The album, titled "Bright Lights & Promises". Redefining Janis Ian, will be released in mid- April on Seattle based, Origin Records.
Now in her fifth decade of writing songs and performing, Janis Ian received her most recent Grammy nomination in 2016, making a total of 10 nominations and 2 wins over the years in 8 categories.
Partridge, according to the New York Times, "belongs to a great tradition of jazz singers who use hard rhythm as a kind of emotional armor". In addition to new arrangements of 11 Ian classics, the two singer/songwriters penned a couple of new songs for the forthcoming album… "A Quarter Past Heartache" and "Somebody's Child". They sing together on the former.
Partridge says, "I have long been influenced as an artist, and moved as a human being by Janis Ian's honest and poetic music and lyrics. I am proud to present my interpretations of some of her splendid compositions."
"We artists are the last alchemists, pulling your dreams, your hopes, your deepest desires out of thin air, and turning them into something you can hear, and play, and sing. We don't sell music. We sell dreams," says Ian.