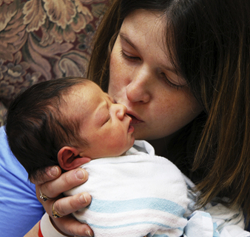 When I had my own surrogacy procedure there was no resource that offered even basic information... So I promised to help any couple with totally free, absolutely honest and complete information on how to start their own families.
(PRWEB) January 25, 2017
Sensible Surrogacy announces the updated release of its online Gestational Surrogacy Guide, including a new section "How Does Surrogacy Work?" The Guide is the most comprehensive online resource for couples considering gestational surrogacy as a fertility treatment. It's also totally free for any interested viewers online at SensibleSurrogacy.com.
The Surrogacy Guide's new resource "How Does Surrogacy Work?" offers step-by-step instructions into the process of Gestational Surrogacy. The new section joins additional online resources including a searchable database of proprietary articles on making surrogacy successful and affordable, a section of managing the costs of gestational surrogacy worldwide, a Frequent Questions section, and step-by-step instructions on how couples can start and manage their own surrogacy procedure.
The Guide also includes a section for same-sex couples on Gay Surrogacy options worldwide.
"When I had my own surrogacy procedure there was no resource that offered even basic information, like how to choose an agency or find a qualified surrogate mother," said Sensible Surrogacy founder Bill Houghton, who has two children of his own through gestational surrogacy. "There was more to learn than I ever realized, and I found my way through a combination of hard work and dumb luck. So I promised myself to help any couple who were interested in surrogacy, totally free, with absolutely honest and complete information on how they can start their own families. Sensible Surrogacy started doing that in 2102. Now this new release of the Guide takes that promise even further."
Gestational surrogacy has become a popular fertility option for childless couples. But many still find the process of how surrogacy works to be opaque and confusing. Medical websites offer daunting and incomprehensible explanations without offering any practical assistance. The Surrogacy Guide will help any couple understand exactly how surrogacy works in a very practical sense, and instructs how they can start their own family with the help of a surrogate mother (also called a "Gestational Carrier").
Per the Guide, surrogacy works in five distinct steps, starting with the donation of sperm and eggs, the 'in-vitro' conception of embryos, and the transfer of the embryos to a surrogate mother. But more than outlining the medical process, the Guide also gives specific advice on how couples can navigate international programs and improve their chances of a successful pregnancy through gestational surrogacy.
Unlike medical websites that focus only on clinical processes, the Guide also instructs couples on the legal and logistical steps of finding a qualified surrogate and arranging parental rights in the parents' local courts.
"Our new families are filled with love! That's the Sensible Surrogacy motto, and that's our fundamental goal," said Houghton. "We want all couples to realize their dreams of a happy family. Whether children are born via ART procedures in the United States or gestational surrogacy in Ukraine, we are advocates for gestational surrogacy worldwide, and for the families that benefit from this important fertility treatment."
Sensible Surrogacy is an an ethical IVF & surrogacy consultancy with client support in Europe and North America. Since 2012 they have advocated for affordable, complete and ethical surrogacy services through their overseas consultants and a network of medical and legal service providers.