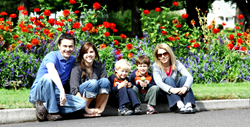 2017 Bliss Award Winner - Best Tennessee Community of the Year
Knoxville, Tennessee (PRWEB) January 24, 2017
As Real Estate Scorecard drove up and down the gentle rolling hills of Gettysvue Golf and Country Club, they knew they'd found something special. Just 20 minutes from the heart of downtown Knoxville and Market Street, the 300 acre Tennessee golf community has incredible hilltop views of the Great Smoky Mountains and of its own golf course in the valley. Eye candy in the neighborhood includes rock outcroppings, beautiful hardwood trees and crystal-clear babbling streams.
Established in the late 1990's, the 18 hole golf course designed by Bland Pittman, is the centerpiece of the Knoxville golf course complimented by a two story, English-style clubhouse perched up on a hill. Here families enjoy a variety of dining options and weekly social club events. The two-tiered driving range is not for the faint of heart. It has six target bunkers built high up on a hill, above the rooflines of homes off in a distance. What a fun way to practice one's mountain golf skills.
The community's Junior-Olympic size swimming pool and baby pool is coupled by infinity-views of the Smokies. Five tennis courts and a new 4,200 square foot fitness center add to the wellness amenities residents enjoy in a country club setting. Member events at the club are designed for families of all ages; from a Father Daughter Prom to Scotch & Cigars night. Golf club members have more than two dozen 'club' championships at Gettysvue. The more unique; the Scottish Cup, Battle of the Sexes, Golf & Wine Putting, and Memorial Day Skins Game. Gettysvue has a great tennis program too.
It's remarkable how much the Tennessee golf community connects families and generations. With almost four dozen themed events throughout the year, in addition to the golf and tennis events, Gettysvue kids, parents and retirees can be as busy as they desire. Real Estate Scorecard has visited a number of times and observed how happy the residents are. They're super friendly and quick to share a smile. After all, it's Tennessee of course, the home of Southern hospitality.
Twenty five years after the first home was built at Gettysvue, the west Knoxville TN real estate development still looks modern and new. Real Estate Scorecard is impressed with the community's affordability considering the elegance of the homes, amenities and social activities. A family can enjoy full golf privileges for approximately $350 a month. Or a social membership for the entire family, without golf, is around $150 a month. Because the Knoxville golf course community is not gated, property owners are not burdened with the expense of a manned gated entrance. HOA fees are about $150 a month. Approximately 300 homes are built within the child- friendly country club ranging from the $400's to over $2 million.
Folks have all heard the saying that "one of the most important attributes in choosing real estate is location, location, location." After visiting 44 Tennessee master planned communities, Real Estate Scorecard knows it's hard to beat Gettyvue Golf & Country Club's location on the west end of Knoxville, especially if folks are working professionals or enjoy a metropolitan city but don't want to live in it. Surrounded by clean lakes and less than an hour from the precious Great Smoky Mountains, the outdoor recreational opportunities abound. Within 20 minutes of Maryville or downtown Knoxville, residents have easy access to savory dining, extraordinary shopping at Turkey Creek, world class medical care, award winning colleges and rich cultural arts. Knoxville's international airport is only 20 minutes away.
Real Estate Scorecard honors Gettysvue Golf and Country Club with the 2017 Bliss Award for Best Tennessee Community of the Year. The casual blend of comfort and elegance makes it special. It's the type of club folks would be proud to call home. To learn more about living in Knoxville and/or at Gettysvue, write Real Estate Scorecard for more info at info(at)realestatescorecard(dot)com
About Real Estate Scorecard:
Real Estate Scorecard writes unbiased real estate reviews providing in-depth information about popular gated communities in Florida, Georgia, the Carolinas and Tennessee and Central America, all in an effort to help people discover where to retire in the South.
Website: http://realestatescorecard.com