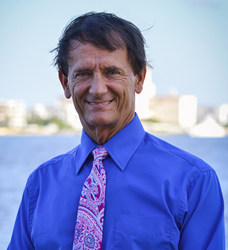 West Palm Beach, FL (PRWEB) January 23, 2017
New patients with multiple missing teeth are now welcome to visit Dr. Roy C. Blake III for All-on-4® dental implants in West Palm Beach, FL, without first receiving a referral. All-on-4® implants are ideal for individuals who have lost multiple teeth and need to replace an entire arch of teeth. This cutting-edge procedure combines the convenience and affordability of dentures with the durability and comfort of implants to provide long-term functionality and improved appearance.
Dr. Blake is a leading prosthodontist offering effective and customized treatment to patients in two practice locations, West Palm Beach and Jupiter, FL. Sharing his passion for advanced dental techniques, Dr. Blake also teaches general dentists at the Atlantic Coast Dental Research Clinic and has dedicated over 30 years of practice to patients at his two office locations.
Dr. Blake understands the toll missing teeth can take on a patient's health and their daily lives, which is why he now welcomes patients to find out how All-on-4® dental implants in West Palm Beach, FL, can benefit them. The All-on-4® treatment system is ideal for individuals who have multiple missing teeth and need full arch restoration for their top or bottom jaws. The system is designed for immediate load, which means that the patient will have immediate use of their new teeth once the procedure is complete.
The All-on-4® treatment system involves the precise placement of only four implants per arch. These implants are spaced strategically for maximum strength and reliability. Although some patients with low bone density may not qualify for a complete arch of single dental implants, the All-on-4® technique only requires four implants and less bone density to be successful. Once the implants have been placed in the bone, a temporary prosthesis is attached for immediate use. A permanent, personalized prosthetic appliance is attached once the implant posts have had time to fully integrate with the bone.
Patients with multiple missing teeth in West Palm Beach or Jupiter, FL are welcome to visit Dr. Blake's offices without a referral and receive a consultation for All-on-4® dental implants. Appointments may be scheduled by calling 561-296-3399.
About the Doctor
Dr. Roy C. Blake III is an experienced prosthodontist who has been offering personalized dental care to patients in Jupiter and West Palm Beach, Florida for over 30 years. Dr. Blake is a certified maxillofacial prosthodontist who offers specialized treatment in single and multiple dental implant placements and full mouth reconstructions, among other services. Dr. Blake and his entire team value attention to detail and understanding each patient's unique needs in order to offer a truly customized dental experience. To learn more about Dr. Blake or the services he offers, visit his website at http://www.royblakedds.com or call (561) 296-3399 to schedule a consultation.