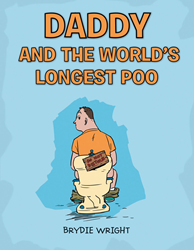 SYDNEY (PRWEB) February 13, 2017
Have you ever spent a decent amount of time looking for someone only to realize they were in the bathroom the entire time? If not, you must be the person who is always in the bathroom.
No matter the reason, some people find that the bathroom can be a calming and peaceful place to "escape reality." Brydie Wright acknowledged this unusual trend with her husband, which inspired her to write "Daddy and the World's Longest Poo."
In this relatable and witty book, Wright shares the eccentricities of domestic life as it pertains to the hectic daily routine of raising a family. "Daddy and the World's Longest Poo" is a light-hearted children's book intended to entertain children and humor adults as it tells the adventure of a little boy who faces a conundrum as he searches for his father. Readers will follow him on a journey of discovery as he tries to make sense of one of life's great mysteries.
"My dearest wish for this book, as an author, is to tap into that audience that wants comedy in children's books," said Wright. "It's for readers who want to be able to laugh at themselves and personally identify with the story they are reading."
Next time you find yourself needing some alone time in the bathroom, make sure you have a copy of "Daddy and the World's Longest Poo."
"Daddy and the World's Longest Poo"
By Brydie Wright
ISBN: 978-1-4834-5501-3 (sc); 978-1-4834-5502-0 (e)
Available online at Lulu, Barnes & Noble and Amazon
About the author
Brydie Wright is a first-time author from Sydney, Australia. She is married and has a four-year-old son who is her inspiration for writing.
# # #
Review Copies & Interview Requests:
LAVIDGE – Phoenix
Courtney Coombes
480-998-2600 x 612
ccoombes(at)lavidge(dot)com
General Inquiries:
LAVIDGE – Phoenix
Maggie Driver
480-998-2600 x 584
mdriver(at)lavidge(dot)com