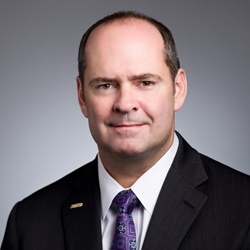 ATLANTA (PRWEB) January 23, 2017
Robert J. Slimp, PE, has been named chairman, president and CEO of HNTB Holdings Ltd. Slimp has held a number of leadership roles within HNTB since joining the firm in 2005. He continues to serve in his role as chief executive officer for HNTB Corporation, a post he has held since 2013.
"Under Rob's leadership, HNTB continues to grow and prosper," said Harvey Hammond, chairman of HNTB's Holding Company. "Throughout his time with HNTB, he has remained dedicated to the HNTB goal of providing outstanding service to our clients and modeling HNTB's values as a company."
Slimp has more than two decades of industry leadership and client service experience on large-scale infrastructure and transportation programs throughout the United States.
"It is an honor to be appointed to this role," Slimp said. "I share a deep appreciation and respect for HNTB's 103-year-old legacy and look forward to leading the firm's talented professionals in service to our clients."
Throughout his time with the firm, he has been promoted to roles of increasing responsibility, including Austin, Texas, office leader; Southeast Division president; Northeast Division president; and CEO.
Slimp earned a Bachelor of Science in civil engineering from Louisiana State University and Agricultural and Mechanical College.
About HNTB
HNTB Corporation is an employee-owned infrastructure firm serving public and private owners and contractors. With more than a century of service in the United States, HNTB understands the life cycle of infrastructure and addresses clients' most complex technical, financial and operational challenges. Professionals nationwide deliver a full range of infrastructure-related services, including award-winning planning, design, program management and construction management. For more information, visit http://www.hntb.com.