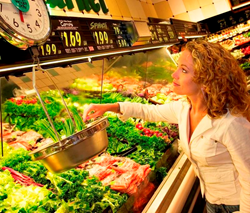 Before we became a nation, our forefathers were keenly aware of the importance of standards for commerce.
Lincoln, Nebraska (PRWEB) February 28, 2017
The National Conference on Weights and Measures (NCWM) announces Weights and Measures Week 2017. This year's theme is "Tradition and Technology Drive U.S. Standards for Trade". And indeed, NCWM as an organization is quite familiar with tradition and technology.
The U.S. system of measurement consists of customary units such as pints, pounds, feet and inches. The early versions of these standards, although adequate for their time, are imprecise by today's criteria. Through the developments in technology over time, there have been many improvements in their accuracy. This, along with the work of weights and measure officials, allows Americans to have confidence in today's measurements in commerce and enables them to take that accuracy for granted.
Before we became a nation, our forefathers were keenly aware of the importance of standards for commerce. Consequently, trading standards were referenced in the Articles of Confederation and again in the U.S. Constitution, "Congress shall have power... to fix the standard of weights and measures." However, because the U.S. Constitution also gave each state the right to regulate weight and measures within its jurisdiction, uniformity and accuracy in standards was difficult to effect across the nation. President John Adams signed what would become the first legislative act passed by Congress related to weights and measures on March 2, 1799, and subsequently Weight and Measures Week was established March 1-7 each year.
One early attempt at uniformity was to use the scientifically-derived metric system. The passage of the Metric Act of 1866 legalized the use of the metric system in the U.S. but it never gained universal acceptance or use. Two later changes were revolutionary to modernizing our system. In 1901, the Federal government established the National Bureau of Standards, now known as the National Institute of Standards and Technology (NIST), and shortly thereafter the NCWM was established in 1905 when state directors first met to discuss weights and measures issues. These organizations worked in concert to address the hodge-podge of U.S. standards still in existence a mere one hundred years ago, and continue to do so today.
NCWM provides the forum by which technical standards for U.S. weights and measures are developed. The NIST Office of Weights and Measures is invaluable to this process and serves to promote uniform adoption and regulatory enforcement throughout the states. Government officials in hundreds of state, county, and municipal jurisdictions work daily to enforce the standards adopted by NCWM and published by NIST.
This week we celebrate this culmination of organizational efforts, plus the successful journey to adopt codes for such familiar measuring devices like the grocery scale and gas pump, and the adoption of new technical standards utilized in alternative fueling systems and measurements using GPS and mobile applications. This journey will never be over since science is always advancing. More effective equipment is steadily being introduced into industry. Regardless of what comes next, NCWM will continue to evolve to meet the challenges of tomorrow's technology.
The National Conference on Weights and Measures is a professional nonprofit association of state and local weights and measures officials, federal agencies, manufacturers, retailers and consumers. NCWM has developed national weights and measures standards since 1905. The organization brings the right interests together to keep pace with innovative advancements in the marketplace.