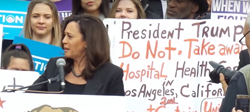 Learning to thrive in a social climate of cons, lies, racism, sexism and hostility currently plagues this new era initiated by Trump's repeated antagonistic statements before and since Inauguration.
Torrance, CA (PRWEB) January 23, 2017
During the January 21 Torrance meeting of women and their men who support them, Dr. Carol Francis, Psychologist in the South Bay area, explained "Watching Women's Marches across the planet demanding equal rights, equal pay, humane respectful governing for all people and by all people shines as a bright beacon of determination and resilience contrasting to the prior gloomy day of Inauguration."
"Anxieties, animosities, paranoid fears, normalizations of abusive words and actions, helplessness and other signs of serious distress are more evident in the USA as this new era begins. Therefore, all citizens will need to find ways to fight the helplessness, hopelessness and fears that this sense of powerlessness breeds."
"I have watched our Southern California communities during the last 8 years recover from various economic downturns, real estate debacles, significant unemployment, unaffordable health care, rise in costs without parallel rise in incomes, and discriminations due to gender, race or identity."
"During this recovery, Southern California communities seemed able to focus on improving racially based wrongs. Teens were expressing hope for a world free of gender or identity discriminations. Internet freedom felt secure, although personal privacy was waning. More woman were employed with similar opportunities to men in many industries. Home ownership increased without unregulated and destructive bank loans. Sustainable energy grew in popularity and affordability. Anxieties, fears, and hopelessness were reduced as crises were repaired, economically, environmentally and socially in the Southern California regions. Even the draught brought a collective, community support of making "Brown the new Green" because we were united."
"However, much has been changing with the assaultive nature of the political feuds and unbelievable lack of respectful attitudes. Now in contrast, over the last 18 months, culminating in November, these same communities see an apparent rise in race and gender tensions. Teens and their parents express fears about personal securities related to LBGTQ issues, racial slanders, and increased hate crimes, violated First Amendment rights, and not being among the rich and famous who seem to have kidnapped the government. Professional and working class women and teens again feel vulnerable to overt and covert sexual harassments and business exclusions as their male bosses and male co-workers seem to feel re-licensed to exert male supremacy."
"What was once inhumane and shameful now is normed as the freedom to act shameless. This lack of values and character is disempowering teens and young adults who feel they no longer live in a sane and civilized country. Teens politically face no hope of improving college expenses, nor keeping affordable health insurance, nor having equal say when voting for officials, or even rising above the minimal pay. Instead, teens and parents face a 'dog-eat-dog', "the winner is whomever dominates with cruelty or intimidation."
"Civility and tolerance have been the main attitudes for a little less than a decade, which inhibited cruelty and elevated peaceful co-existence to a valued status. Now, teens, millennials, women, races who are not white, and their parents face the necessity to teach survival skills in this new social arena that promotes those who deceive, con, scam, lie, discriminate, and threaten.
"This produces an entirely new arena for those of us working in the health care role, and produces an even more anxious, even more paranoid, necessity for parents, women and teens to learn how to survive, or perhaps thrive, in hostile surroundings."
Dr. Carol Francis delivered this message to a group of parents, women and men, and millennials who gathered together in honor of the Women's March on January 21, 2017.