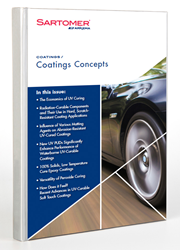 Exton, Pa. (PRWEB) January 24, 2017
As part of its mission to provide coatings manufacturers with the latest information on formulation solutions, Sartomer Americas (a business unit of Arkema Inc.) announces the release of Coatings Concepts. This free technical booklet contains six articles by industry experts to help compounders enhance their coatings formulations to advance performance in a wide variety of applications.
Coatings Concepts contains new information on:

The Economics of UV Curing
Radiation-Curable Components and Their Use in Hard, Scratch-Resistant Coating Applications
Influence of Various Matting Agents on Abrasion-Resistant UV-Cured Coatings
New UV PUDs Significantly Enhance Performance of Waterborne UV-Curable Coatings
100% Solids, Low Temperature Cure Epoxy Coatings
Versatility of Peroxide Curing
How Does it Feel? Recent Advances in UV-Curable Soft Touch Coatings
To view the articles and white papers featured in Coatings Concepts, visit https://americas.sartomer.com/ and register for free full-site access to the website. The site is an online portal that provides a wealth of information, including technical literature; regulatory updates; a product selection guide; and contact information of key company representatives.
Sartomer is a premier global supplier of specialty chemicals for ultraviolet and electron beam (UV/EB), peroxide, and two-part epoxy/amine systems. For more than 55 years, Sartomer has pioneered the development of these advanced technologies, introducing hundreds of products that enhance performance in coatings, graphic arts, adhesives, advanced materials and other demanding applications. For more information, visit http://www.sartomer.com.
A designer of materials and innovative solutions, Arkema shapes materials and creates new uses that accelerate customer performance. Our balanced business portfolio spans high-performance materials, industrial specialties and coating solutions. Our globally recognized brands are ranked among the leaders in the markets we serve. Reporting annual sales of €7.7 billion in 2015, we employ approximately 19,000 people worldwide and operate in close to 50 countries. We are committed to active engagement with all our stakeholders. Our research centers in North America, France and Asia concentrate on advances in bio-based products, new energies, water management, electronic solutions, lightweight materials and design, home efficiency and insulation. http://www.arkema.com
MEDIA CONTACTS
Jim Zawicki
Tel.: 610.594.7360
E-mail: jim(dot)zawicki(at)sartomer(dot)com
Lisa Goetz
Tel.: 610.269.2100 x244
E-mail: lgoetz(at)schubertb2b(dot)com