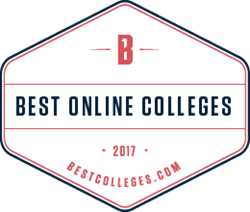 Seattle, WA (PRWEB) January 24, 2017
BestColleges.com, a leading provider of higher education information and resources, today published its annual ranking of America's Best Online Colleges. The University of Central Florida, Arizona State University, and University of Minnesota-Twin Cities top 2017's list of 25 accredited, not-for-profit schools.
BestColleges.com expanded the requirements for eligible schools to reflect the increasing interest and opportunities students are seeking when it comes to online higher education. Each institution included in the rankings must offer at least ten undergraduate and three graduate degree programs online. Furthermore, affordability metrics, which utilize National Center for Education Statistics (NCES) data to show a school's return on investment for potential students, played an expanded role this year.
"The Best Online Colleges ranking is intended to inform and guide prospective students toward institutions that provide a quality education and a meaningful learning experience at an affordable cost. As online higher education demand grows and more schools bring programs online, it's important and necessary to hold institutions to a standard of excellence that students can depend upon when making their college choice," said Stephanie Snider, General Manager of BestColleges.com.
Adds Snider: "Like so many institutions, higher education is undergoing significant disruption from a technological and access perspective. At BestColleges.com, we believe distance learning is a powerful educational opportunity for schools and students. It serves as a flexible option for students who cannot attend traditional campus classes, like those working full-time or with childcare restrictions. We want to give those individuals who might miss out on an opportunity to go back to school, or advance their career, the information needed to start their college search."
In addition to the ranking of top online schools, BestColleges.com also equips prospective students with a guide for how to navigate their college choice, covering the importance of accreditation, career considerations, and the costs and types of online colleges available to them.
2017 Best Online Colleges:
1. University of Central Florida
2. Arizona State University
3. University of Minnesota-Twin Cities
4. Northeastern University Global Network
5. Colorado State University-Global Campus
6. University of Florida
7. Liberty University
8. Pennsylvania State University-World Campus
9. Kennesaw State University
10. Brandman University
11. East Carolina University
12. Indiana Wesleyan University-Marion
13. The University of Alabama
14. University of Massachusetts-Lowell
15. Thomas Edison State University
16. LeTourneau University
17. Florida International University
18. Excelsior College
19. Fort Hays State University
20. Oregon State University
21. Drexel University
22. Champlain College
23. Old Dominion University
24. Anderson University
25. Northwestern State University of Louisiana
View the complete ranking at: http://www.bestcolleges.com/features/top-online-schools/
BestColleges.com Methodology
The methodology behind our rankings is grounded in statistical data and a few consistently applied guiding principles. Our 2017 rankings reflect the most recent data compiled from IPEDS and the College Navigator, both of which are hosted by the National Center for Education Statistics. Our goal is to objectively assess relative quality based on academic outcomes, affordability, and the breadth and depth of online learning opportunities. The following criteria was used to make these assessments:
MINIMUM REQUIREMENTS
● Each school must be an accredited public or private, not-for-profit institution.
● Accredited Online Bachelor's Degree Programs: Each school must offer at least 10 online bachelor's degree programs and three online master's degree programs.
● Accredited Online Associate Degree Programs: Each school must offer at least six online associate degree programs.
RANKING FACTORS
All eligible institutions are ranked on a 100 point scale. A perfect score of 100 is earned by ranking #1 for all ranking factors. ACADEMIC QUALITY - 50% OF TOTAL SCORE
● Admissions Rate - 30%
● Enrollment Rates - 20%
● Retention Rate - 20%
● 6-Year Graduation Rate - 30%
AFFORDABILITY - 25% OF TOTAL SCORE
● Average Net Price - 40%
● Percentage of Enrolled Students Taking Federal Loans - 20%
● Retention Rate - 20%
● Loan Default Rate - 40%
ONLINE PROGRAMMING - 25% OF TOTAL SCORE
● Number of Online Programs Offered - 50%
● Percentage of Enrolled Students Taking Online Courses - 50%
Online Education Reports:
● Babson Report 2015
● BestColleges.com's Online Education Trends School Report 2017
● BestColleges.com's 2017 Student Guide to Online Education
BestColleges.com helps prospective students find the school that best meets their needs through proprietary research, user-friendly guides, and hundreds of unique college rankings. They also provide a wide array of college planning, financial aid, and career resources to help all students get the most from their education and prepare them for the world after college.