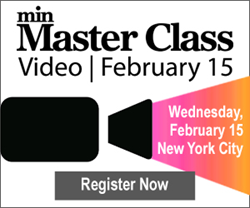 New York, NY (PRWEB) January 24, 2017
min has assembled a team of video experts to deliver insights and strategies for media professionals to grow their businesses through video. The min Master Class will be held on Wednesday, February 15, 2017 at the Yale Club in New York City. Early bird rates end Tuesday, January 24, 2017.
At the min Video Master Class, attendees will discuss the formats, creation techniques, distribution approaches, and required skillsets needed to develop and refine the best approach for their video strategy.
Speakers Include:
-Jonathan Anastas, Chief Marketing Officer, TEN: The Enthusiast Network
-Naama Bloom, SVP of Integrated Marketing, SheKnows Media
-Ross Clark, VP & GM, Sweet—Partnership of Hearst & Snapchat
-Mason Cohn, Head of Video, Fortune.com
-Carly Costantino, Senior Media Director, Razorfish
-Dan Q. Dao, Deputy Digital Editor, Saveur
-Lloyd D'souza, Executive Producer & Creative Director, Vox Creative
-Matt Johnston, Executive Producer of Video, New York Media
-Melinda Lee, SVP & GM of Video, Meredith Corporation
-David Lennon, Global Creative Director, WSJ Custom Studios
-Scott Mebus, Head of Video & Television, Fast Company
-Karen Ramspacher, SVP of Consumer Insights, GfK MRI
-Cory Rotkel, National Digital Ad Director, MensHealth.com
Session Topics Include:
-Media Consumption, Ad Spending & Video
-The Essential Steps to Pivot Your Brand to the Visual Medium
-Rationalizing Your Reach Among an Array of Distribution Options
-Monetizing Your Video Initiatives
-Using the Visual Format to Drive Brand Messaging
-A Deep Dive Into Live Video
To view a more detailed description of the agenda and speaker roster, please visit http://www.minonline.com/video-master-class-2017. Early bird pricing for this event expires Tuesday, January 24. Group rates are available.
For questions about the master class or registration, please contact Zoe Silverman at zsilverman(at)accessintel(dot)com. To inquire about sponsorship opportunities, please contact Tania Babiuk at tbabiuk(at)accessintel(dot)com.
About min:
min is the industry's most trusted source on the consumer and b2b magazine business, reaching thousands of media executives through minonline.com, weekly newsletters and in-person events. For more than 60 years, min has been serving the magazine and media community with unparalleled coverage of this ever-changing industry. For more information, visit http://www.minonline.com.