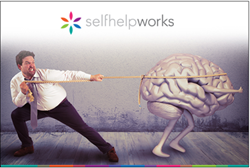 Challenges, apps, and calorie counters...lack the horsepower to change the deeply embedded programming in the brain.
San Diego, CA (PRWEB) January 25, 2017
According to data compiled by Statistic Brain on January 1, 2017, about 41% of Americans usually make New Year's resolutions, the most popular being "Lose Weight/Healthier Eating." Unfortunately, only 9.2% of people report successfully meeting their goals. According to Lou Ryan, founder of online behavior change company SelfHelpWorks, the overwhelming lack of success with weight loss starts with the fact that people who are overweight can't stop eating in the ways that make them overweight, no matter how hard they try. Ryan's company has worked with tens of thousands of individuals and, according to Ryan, most have no idea why they cannot stop eating certain foods. And even for those who do manage to figure it out, "They don't know what to do about it," said Ryan.
"So they rely on the tried and tested ways that are guaranteed to fail, at least in the long run. They go on diets, buy apps, trackers, meal planners, and even resort to bariatric surgery," Ryan explains. "Bariatric surgery tries to fix the wrong organ. Weight problems occur between the ears - they are thinking problems, not eating problems. It is the mind that tells us what and how much to eat…not the stomach."
Ryan continues: "Our minds are designed like computers, they are here to serve us. When we make conscious decisions over and over to eat something in certain situations, file folders are created – so to speak - within our subconscious that contain beliefs, thoughts, desires and decisions that drive our eating behavior. It becomes the default operating system for our eating habits and this is how addictions are created. Our brain determines that we need these junk foods and complies by serving up cravings. The files reside in a part of our brain called the basal ganglia. To break an old habit, to change the operating system, the code within it needs to be rewritten. Going on a diet does not work because dieting is in direct conflict with the brain's marching orders and it fights back and alerts us by making us uncomfortable. In response, we become compulsive, feel deprived, and have cravings that drive us back to our pre-resolution, weight-producing lifestyles. Challenges, apps and calorie counters are great for initiating short-term change and formulating a healthy corporate culture, but they lack the horsepower to change the deeply embedded programming in the brain."
Ryan says that his company, SelfHelpWorks, has developed online lifestyle management programs that rewire the brain and rewrite the code using a uniquely structured cognitive behavioral training process derived from cognitive behavioral therapy (CBT)." Ryan says, "Cognitive behavioral training enables people to change unhealthy eating habits and addictions where they were formed, which is in the brain, without ever having to use willpower or fight feelings of deprivation. The urges for unhealthy foods are the manifestations of the way we've trained ourselves to think. When we create new, healthy trained cognitive responses to everyday trigger substances and situations, we can finally break free of the eating patterns and behaviors we are trying to change."
For anyone interested in learning more about SelfHelpWorks and LivingLean, the demo on the company website is a good place to start.
ABOUT SELFHELPWORKS, INC.
SelfHelpWorks is the leading provider of online video-based cognitive interventions for reducing population health risk. The interventions are designed to produce sustained behavior change using an evidence-based cognitive behavioral training approach derived from cognitive behavioral therapy (CBT). They target important issues such as obesity and unhealthy eating, tobacco addiction, diabetes, chronic stress, alcohol abuse and inactivity. The interventions are primarily offered by corporate wellness programs and health providers. Users can access them privately and conveniently 24/7 via computer, tablet or smartphone.