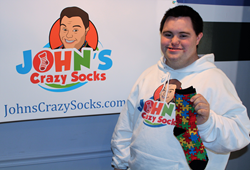 We want to honor the achievements, contributions and struggles of people with autism
Huntington, NY (PRWEB) January 25, 2017
John's Crazy Socks, an online sock store that spreads happiness through socks, is donating to the Autism Society of America's Nassau/Suffolk Chapter $1 for every pair of Autism Awareness Socks sold. Mark X. Cronin, co-founder of the company said, "We want to honor the achievements, contributions and struggles of people with autism. By offering this sock, we help raise awareness of autism and raise money to support individuals with autism and their families."
The socks feature the multi-colored puzzle that has become associated with autism. The design represents the puzzling nature of the condition as well as the many varied contributions that people with autism make to society. The bright colors signify the hope that comes from increased awareness. The socks were designed and made by SockSmith, a cutting edge sock design shop in Santa Cruz, California. People can purchase the Autism Awareness Socks here.
John's Crazy Socks was co-founded and inspired by John Cronin, a young man with Down Syndrome, and we have a mission to spread happiness through socks. Through John's work in the company every day, John's Crazy Socks demonstrates that people should not be judged on their limitations, but on the difference they make for others.
John's Crazy Socks offers socks that people can love: beautiful colorful, fun and crazy socks that let people express their passions and personalities. We deliver the socks through fast and personal service and every package includes a hand-written thank you note from John. The company ships world-wide, but John still makes personal local deliveries. John says, "I like to meet our customers and make them happy."
Giving back is part of the core mission of John's Crazy Socks. The company has pledged five percent of its earnings to the Special Olympics. John is a Special Olympics athlete and he and his family have witnessed the positive impact the Special Olympics has on so many lives.
It was John who initiated the project to do something for people affected by autism. John says, "Some of my best friends have autism and people should know how great they are." The idea was simple. Find a sock that was beautiful and would help raise awareness about autism. To further the cause, the firm decided to donate $1 from the sale of each sock to the Autism Society of America Nassau/Suffolk Chapter.
"We chose the Nassau Suffolk Autism Society of America (NSASA) based on feedback from our customers, our Facebook community and families we know affected by autism," explained Mark X. Cronin. NSASA has a mission to provide lifelong access and opportunity for all individuals within the autism spectrum and their families. They offer events and programs and conduct education and advocacy initiatives at the local, state and federal levels. "We were touched by the level of personal commitment to the families affected by autism.
To learn more about the Nassau Suffolk Autism Society of America (NSASA), you can visit their website or call (516) 404-2306.
You can learn more about John and John's Crazy Socks at our website and our Facebook page. You can also call 631-760-5625 or reach us via email at service(at)johnscrazysocks.com.