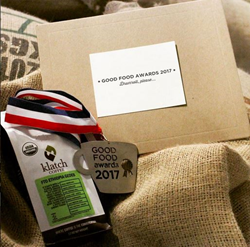 In addition to the Good Food Award and US Brewers Cup recognition, Klatch Coffee also used the Ethiopia Gedeb to win gold for America's Best Coldbrew at CoffeeFest Anaheim.
Los Angeles, California (PRWEB) January 25, 2017
Klatch Coffee, award winning specialty coffee roaster in Southern California, received top honors January for their highly recognized Fair Trade Organic Ethiopia Gedeb. It was announced January 20th that the Gedeb won a prestigious Good Food Award in San Francisco, CA as well as being the coffee of choice for Klatch Coffee in the US Coffee Championships Brewers Cup regional competition in Knoxville, TN.
Nicknamed the "Oscars" of food, the Good Food Awards were created to honor food and drink producers who have demonstrated a commitment to building a 'tasty,' authentic, and responsible food system that honors farmers and producers.
Criteria for entry includes exemplary flavor - sweet, clean, well developed body, balanced acidity and phenomenal aromatics. Roasters and coffee producers must emphasize fairness and transparency from seed to cup, and use third party certified organic beans.
The United States Brewers Cup is a competition that celebrates the art of manual brewing. There are two regional events with 36 competitors each and the top 12 move on to compete for the title of US Brewers Cup Champion. Jessica Rodriguez of Klatch Coffee selected the FTO Ethiopia Gedeb to use during competition and placed 3rd in her regional event held January 20 – 22, 2017.
In addition to these two awards, Klatch Coffee presented the FTO Ethiopia Gedeb during the first ever America's Best Cold Brew competition at CoffeeFest in Anaheim last September and again took home the gold.
Ethiopia Gedeb was sourced by Mike Perry, Klatch Coffee's Green Coffee Buyer, during one of his visits to origin as part of the company's Direct Trade model. The cup brings out complex fruit flavors, sweet herbal notes, lemon acidity and a marzipan body along with a sweet and savory finish.
FTO Ethiopia Gedeb is available for purchase at http://www.klatchroasting.com and in Klatch Coffee's southern California retail locations in Rancho Cucamonga, Ontario and San Dimas while supplies last.