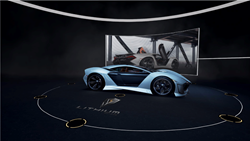 "...it provides an immersive and interactive experience that cannot be achieved with more traditional sales approaches."
SAN FRANCISCO, LOS ANGELES, MOSCOW, BERLIN (PRWEB) January 25, 2017
Over New Years weekend, San Francisco based creative agency, Transparent House, quietly dropped a revolutionary virtual reality application that creates an interactive virtual showroom experience for it's in-house designed luxury car, Lithium Motors. The tool shows producers how VR can be leveraged as a sales-driving marketing tool.
Only six days after the application went live on Viveport.com, the application received 1,000+ downloads. It was quickly moved to the "Featured" section on the Viveport app store and now just three weeks after release, it is still going strong at 2,600+ downloads. The app allows the viewer to admire the sleek design of the automobile from varying angles and interact with it by opening the door, turning on lights, and viewing the inside. A customizable feature presents the viewer with an option to change the color of the exterior and interior materials of the vehicle.
"With international buyers becoming a driving consumer base for the automobile industry, the need to create a transportable showroom has become more vital," said Transparent House President, Denis Krylov. "Not only does virtual reality increase reach, it provides an immersive and interactive experience that cannot be achieved with more traditional sales approaches."
The rise of the VR industry in the last few years has yielded a lot of discussion about hardware and gaming. This new application, however, demonstrates VR's applicability as a sales or marketing tool, thus solidifying a place for virtual reality in consumer business. Transparent House continues to push the boundaries in the field of virtual reality.
For more information or questions regarding Transparent House or Lithium Motors please contact the San Francisco office at sf(at)transparenthouse.com or visit goo.gl/wTBiCv.
About Transparent House
With offices in San Francisco, Los Angeles, Moscow and Berlin, Transparent House (TH) is the next-generation creative studio that excels at the intersection of digital, art, and commerce. Specializing in the creation of stunning 3D assets, branded environments and high-end retail developments, TH employs strategic digital innovation and 3D for high-profile, future-looking brands. With design and 3D in our DNA, TH is equally adept in creative development as well as production, all of which happens around the clock through the company's interconnected global network. Simply put, our goal is making 3D the spectacular core of your brand's marketing campaigns. Experience the future of strategic marketing design and production today at http://transparenthouse.com.