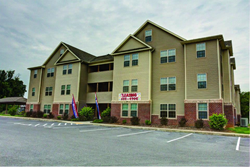 Shippensburg, PA (PRWEB) January 24, 2017
In search of the best off-campus housing available in Shippensburg? Look no further. Ship Apartments tenants love living in Madison, Creekside and Brookside for more reasons than one. 2017 is in full swing and Ship Apartments is prepared to provide tenants with exciting technology to help them stay in the know. In addition to technological updates throughout the complexes, units are inexpensive and stylishly updated to please every tenant.
Downloading the Ship Apartments app has never been this easy. There is now a magnet with NFC technology on the refrigerator in each unit. Simply tapping the NFC tag will quickly take tenants to the informative app. Here, users will find instant updates, coupons, rent reminders and Fun Friday information.
Food is available in the office on Fun Fridays, Ship Apartments can even send app users push notifications as a reminder to stop in for things like tacos or hot wings. The Ship Apartments app even makes it easy for tenants to pay rent, put in a maintenance request and to discover money saving coupons to be used at local businesses.
Aside from the exciting technological changes made within Ship Apartments, they continue to offer many amenities and features that are hard to find elsewhere.
Don't lift a finger, because units come fully furnished. Tenants won't have to worry about moving a heavy couch or desk- couches, tables, chairs, desks and nightstands.
With a lease through Ship Apartments, tenants get parking included right outside of their building. There is no need to pay for parking. Convenient and cost effective. Speaking of convenient, Madison and Creekside are each only a short walk to campus, and close to the local bars and restaurants.
Ship Apartments costs only half of what one would pay for a dorm room. Don't pay more than necessary; enjoy high end living with a much friendlier price tag.
It's two o'clock in the morning and a tenant finds the toilet has overflown. No need to worry. Ship Apartments has a 24/7 maintenance staff to help our tenants with any issues that may arise.
Never worry about leaving home without the key, as each unit has its own unique key code. Memorize a simple 4-digit code rather than forgetting to grab the keys off the table while rushing out the door.
Bring your furry friend along for the ride. Ship Apartments is pet friendly, and our tenants' four-legged pals seem to love it here in Madison, Creekside and Brookside.
Unfortunately, that stash of clean clothes mom washed over break will eventually run out; but luckily, when that happens tenants don't need to drag their laundry very far. Each unit is equipped with its very own washer and dryer. Forget about collecting quarters, loading money onto a laundry card is easy and convenient.
Madison, Creekside and Brookside are sure to please. Don't get stuck in the past; with the new year comes new technology to make tenants' lives a bit easier for. Ship Apartments is the best off-campus housing option in Shippensburg. You do not want to miss out.