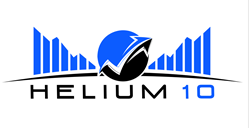 Account suspension is a major problem across our seller community
Irvine, TX (PRWEB) January 25, 2017
Helium 10, a leading developer of software tools for Amazon sellers has announced the launch of a new insurance product designed to protect and support the more than two million third-party FBA sellers who are exposed to the risk of sudden suspension of their Amazon seller account. In some cases, this results in companies relying heavily on Amazon sales for the bulk of their revenue having to completely shut down and lay off employees.
The insurance product, offered by Ashlin Hadden Insurance Agency and underwritten by Lloyd's of London is the first product of its kind, and is due for launch on February 1, 2017.
By investing in the insurance product, sellers on Amazon's FBA program will not only get the support they need to reinstate their account quickly if it is suspended, but will also receive payouts if their account is not reinstated within a 72 hour window.
In an interview with Manny Coats, founder of Helium 10 and a high-profile FBA seller who also hosts an industry podcast, Hadden was asked how the idea was born. She said, "After talking to countless Amazon sellers, one of the biggest concerns many of them had was the fear of getting their account shut down via an Amazon Suspension. Many sellers believe Amazon shoots first and then asks questions later, and many of the people that get suspended later get reinstated, but not before losing weeks of income. That's why I reached out to Lloyd's of London and built this insurance specifically for Amazon sellers to protect their business."
Until now, FBA sellers have had no means of reinstating their accounts other than implementing the official Amazon appeal process, during which time access to their account, products and funds remain frozen until account reinstatement or termination. The insurance offered by Ashlin Hadden Insurance Agency offers FBA sellers a new way of handling the growing problem, and the opportunity to receive payouts based on their daily average gross sales volume if the account is not reinstated within 72 hours.
Manny Coats, who hosts the AM/PM Podcast and is a founder of the Illuminati Mastermind for high volume Amazon sellers says, "we are extremely excited about this product. Account suspension is a major problem across our seller community, and the appeal process is not only time-consuming -- it is costing our members earnings, customers and their reputation. This insurance will be a huge game-changer for any FBA seller who finds themselves on the end of a suspension notice and who needs the peace of mind of knowing they will get reinstated quickly, or receive regular payouts based on past earnings."
The insurance product will be made available to US business entities on February 1, 2017. Launch to non-US entities is expected during Q4.
________________________________________
About Helium 10
Helium 10 is a suite of software tools designed to aid Amazon sellers.
The Illuminati Mastermind is a training program for Amazon sellers who want to learn how to maximize revenues on the Amazon.com Marketplace and other marketplaces.
About Ashlin Hadden Insurance Agency
Ashlin Hadden Insurance Agency is affiliated with the Voldico Insurance, a privately owned company specializing in the Growth and Perpetuation of the Independent Insurance Agent. Through Voldico's Direct Agency Model, it operates 29 locations and serves 32 representatives. With the Agency Support Model, Voldico services an additional 43 locations. Voldico operates throughout the Midwest and in the Mid-Atlantic with its Corporate Headquarters in Osgood, Indiana.
Source
Helium 10
Media Contact
Ashlin Hadden Insurance Agency
Ashlin Hadden
Email: ahadden(at)voldico.com
Phone: 317-771-9185