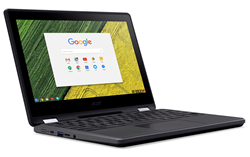 "Acer continues to invest in research and development to create products and solutions designed for the needs of modern education," said James Lin, General Manager, Commercial & Detachable Notebooks, IT Products Business at Acer.
San Jose, Calif (PRWEB) January 24, 2017
Editor's Summary

Acer Chromebook Spin 11 (R751T) is a convertible Chromebook with military grade durability (U.S. MIL-STD 810G compliant ) and extra features that make it perfect for a busy classroom environment
Wacom® EMR (Electro-Magnetic Resonance) technology and stylus let students write and draw directly on the screen as naturally as with pen and paper
Acer Chromebook Spin 11 is fitted with two Acer HD wide view HDR webcams – one 1MP camera above the screen and another 5MP camera above the keyboard
360° dual-torque hinge design means Acer Chromebook Spin 11 can be used in four modes with wobble-free touch experience
Acer has announced its new Acer Chromebook Spin 11 (R751T) at the British Education and Training Technology (BETT) Show in London. Designed specifically for the classroom, the rugged convertible Chromebook comes with a stylus powered by Wacom® EMR (Electro-Magnetic Resonance) technology(1), and features four versatile usage modes that are ideal for modern learning environments. The Chromebook Spin 11 (R751T) will provide additional capabilities thanks to support for Android apps via the Google Play™ Store out-of-the-box.
"Today's students and teachers depend more than ever on the power of technology to improve learning outcomes. Acer continues to invest in research and development to create products and solutions designed for the needs of modern education," said James Lin, General Manager, Commercial & Detachable Notebooks, IT Products Business at Acer. "With our new Chromebook Spin 11, students get a ruggedized and easy-to-use device for learning, while school administrators get a cost-effective laptop package for their schools, helping both students and staff to make the most of what modern technology can deliver."
Acer will be at the BETT show from January 25 to 28 at booth B109, where units of the new Acer Chromebook Spin 11 will be on display.
Classroom Usability
The Chromebook Spin 11 (R751T) has a number of features designed to facilitate school lessons and activities, rather than limit them.
Equipped with a Wacom EMR stylus(1), students can enjoy the best of technology combined with a natural experience that mimics that of using pen and paper. With the stylus in hand, students can digitally draw, sketch, take notes, capture ideas and more in high comfort and with precise control, all the while keeping the screen smudge-free. Schools will also appreciate that EMR styli are battery-free and more resistant to accidental drops, reducing the total cost of ownership (TCO).
In addition, the touch display of the Chromebook Spin 11 (R751T) is protected by Antimicrobial Corning® Gorilla® Glass, (3) with antimicrobial properties made possible by embedded ionic silver.
One of the most impressive features of the new Chromebook is the 360° dual-torque hinge design, which ensures users can enjoy a wobble-free, optimized touch experience in any mode. These modes are:

Tent Mode – Ideal for places where space is restricted (such as fold-down tray tables on bus journeys, or small classroom desks), this mode is great for displaying video content and provides a strong base for touchscreen interactions with apps and webpages.
Tablet Mode – The most mobility-friendly mode, the thin body folds over itself to make for a light and easy to hold unit – great for passing around during group-work and great for field trips and class lessons outdoors. This mode is also perfect for art and design projects with the Wacom enabled stylus. A second Acer HD wide view webcam located above the keyboard allows the user to shoot photos and videos just like they would with a tablet.
Display Mode - Great for displaying instructional video content during classes that require hands on work – like cookbook recipes in a home economics class – or for apps that don't need much touchscreen interaction.
Notebook Mode – Traditional laptop mode for typing and interacting with apps via a full keyboard.
Military-Grade Durability
The Acer Chromebook Spin 11's design is specialized to handle the rough-and-tumble of the classroom. Adhering to the stringent U.S. MIL-STD 810G military standard(2), the Chromebook Spin 11 is tough and can withstand daily knocks and drops, whether a drop from a table or being jostled around in students' school bags. Thanks to a reinforced chassis structure and rubber bumper surrounding the keyboard, the Chromebook Spin 11 can withstand drops from heights up to 48 inches (122cm). The design also incorporates a unique drainage system which can endure up to 330ml of spilled water and channels liquid away from important components. As a further barrier to damage, the keyboard has recessed keys that prevent students from removing, swapping or otherwise interfering with the keys.
Power Packed
All of the above is enabled through solid component choices and features that means it is perfect for school administrators who want a durable, secure laptop that is simple to use for students and can be easily managed at an individual or group level.
Built on the Chrome operating system, the notebook has an 11.6" HD IPS(4) display with highly accurate touch sensitivity. It is powered by either an Intel® Celeron® quad-core processor N3450 or Intel® Celeron® dual-core processor N3350 depending on model. It also and comes with 4GB/8GB LPDDR4 memory and either 32GB/64GB on–board storage through eMMC flash.
Wireless connectivity comes through with 2X2 MIMO 802.11ac Wi-Fi, Bluetooth 4.2, while wired connectivity comes through with 2 USB Type-C ports (USB 3.1 Gen 1 - up to 5 Gbps transfer of data, DisplayPort over USB-C and USB charging) and two type A USB 3.0 ports as well as a MicroSD card reader.
The Chromebook Spin 11 (R751T) weighs in at 1.4kg and measures 296 (W) x 206 (D) x 20.5 (H) mm and has up to 10 hours of battery life(5).
About Acer
Established in 1976, Acer is a hardware + software + services company dedicated to the research, design, marketing, sale, and support of innovative products that enhance people's lives. Acer's product offerings include PCs, displays, projectors, servers, tablets, smartphones and wearables. It is also developing cloud solutions to bring together the Internet of Things. Acer celebrated its 40th anniversary in 2016 and is one of the world's top 5 PC companies. It employs 7,000 people worldwide and has a presence in over 160 countries. Please visit http://www.acer.com for more information.
Media Contacts
PanAm - Lisa Emard Tel: +1-949-471-7705 Email: lisa.emard(at)acer(dot)com
EMEA - Manuel Linnig Tel: +41 91 2610 522 Email: manuel.linnig(at)acer(dot)com
Corp./Asia – Steven Chung Tel: +886-2-86913202 Email: steven.h.chung(at)acer(dot)com
© 2017 Acer Inc. All rights reserved. Acer and the Acer logo are registered trademarks of Acer Inc. Other trademarks, registered trademarks, and/or service marks, indicated or otherwise, are the property of their respective owners. All offers subject to change without notice or obligation and may not be available through all sales channels. Prices listed are manufacturer suggested retail prices and may vary by location. Applicable sales tax extra.
1.) Available on the R751T model for the education market, specifications may vary depending on model and region
2.) Tested by qualified 3rd party labs for certain tests procedure under MIL-STD 810G (Oct 2008) for environmental conditions that include high and low temperatures, humidity, vibrations, mechanical shocks on drops, rain, dust and sand.
3.) Antimicrobial Corning Gorilla Glass does not protect users or provide any direct or implied health-benefit, specifications may vary depending on model and region
4.) All brands and product names mentioned herein include trademarks of their respective companies and are used solely to describe or identify the products
5.) Battery life is based on Google power_LoadTest for non-touch model (http://www.chromium.org/chromium-os/testing/power-testing). Actual battery life varies by model, configuration, applications, power management settings, operating conditions, and utilized features.