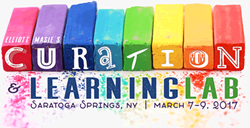 I am deeply excited to bring together a small group of learning colleagues from around the world – at all levels of experience – exploring, experimenting, assessing and deploying a range of curation strategies." - Elliott Masie
Saratoga Springs, NY (PRWEB) January 24, 2017
Elliott Masie has announced a brand new Curation & Learning LAB to be held at The MASIE Center in Saratoga Springs, NY from March 7-9, 2017. Curation for Learning, Curation Tools Leveraging Learning Systems, and Curating Internal Content are just some of the hands-on explorations planned for a small group of learning colleagues in a 2 ½ day intensive exploration and lab experience at the 10,000 square foot MASIE Learning LAB in Saratoga Springs.
"As content, context and collaboration for Learning expands, your employees are facing a wider Learning Panorama," says Masie. "Curation is the process of finding, sorting, organizing, rating, ranking, recommending, validating, clearing, tracking and personalizing learning resources. I am deeply excited to bring together a small group of learning colleagues from around the world – at all levels of experience – exploring, experimenting, assessing and deploying a range of curation strategies. This is a LAB where we will experiment collaboratively."
Learning colleagues from around the world will gather together to explore a wide range of curation strategies, including Curation Tools: Leveraging Learning Apps & Frameworks, Curating External "Open" Content, Curation & Compliance: Keeping it Legal & Safe, Curating Real Time Content for Wider Use, The Learner as Curator?, and much more. Elliott Masie will facilitate a LAB experience for the participants in this vendor-neutral program.
Lab topics will include:

Curation of User Created Content & Collaboration
Curation Skills for Learning Professionals
Curation and Learning Designers/Producers
Performance Support & OJT Curation
"Recommendations" (Ranks, Ratings & Advice)
The Librarian as a Curation Model
Governance of Curation
"Truth Testing" & "Appropriateness Screening"
Curation for Transfer: Learning at the Moment of Need
Building a Curation Taxonomy: Tags, Keys & Sorts
Machine Learning & Curation
Curation Goals: Targeting, Transparency & Optimizing
Mapping Curation to Current Design Models (e.g. Addie)
Curation for Global and Diverse Workforces
Curiosity Based Curation: From Siri to Alexa and More
Emerging Curation Tech & Methodologies
Registration is open and Group Discounts are now available. Content and online registration available at http://www.masie.com.
The MASIE Center is an international Learning LAB and research center working with global organizations. For more information, please visit http://www.masie.com