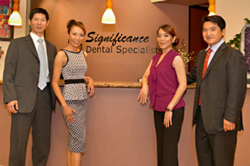 Las Vegas, NV (PRWEB) January 24, 2017
Significance Dental Specialists recently educated over 40 doctors on the benefits of dental implants in Las Vegas, NV, during a seminar for area general dentists. Drs. Allen Huang and Jeffrey Wang, experienced periodontists, specialize in implant dentistry and will be hosting additional dental implant seminars in the future along with their premier team at Significance Dental Specialists.
Drs. Huang and Wang recently hosted an educational seminar on dental implants in Las Vegas, NV. Over 40 doctors in attendance learned about the benefits of dental implants and the importance of replacing missing teeth. As highly trained periodontists, Drs. Huang and Wang understand how harmful it can be to leave missing teeth untreated. Patients who do not replace missing teeth eventually experience deterioration of the bone in the jaw. This deterioration is the result of lack of stimulation due to missing tooth roots. When implant posts are placed in the jaw, they stimulate the area just as natural tooth roots would. As a result, bone growth is stimulated with every chewing motion and bone degradation is prevented.
Patients who receive dental implants are typically able to benefit from them for the remainder of their lives. Dental implants are made from durable, quality materials that are made to last many years with good care. Patients who wish to have the best long-term results with their implants are encouraged to floss and brush every day and attend regular dental checkups. Dental and periodontal professionals who want to offer reliable and preferred dental implants as a treatment option for missing teeth are urged to attend continuing education courses and training on cutting-edge implant placement.
Drs. Huang and Wang, trusted periodontists, invite doctors who want to learn more about dental implants in Las Vegas, NV, to call or visit their practice and find out when the next dental implant seminar will be held. Seats for future dental implant seminars can be reserved by calling Significance Dental Specialists at 702-547-9977.
About the Practice
Significance Dental Specialists is a multi-specialty practice offering cutting-edge, experienced periodontal, orthodontic and endodontic care for patients in four convenient locations in Las Vegas, NV. Dr. Allen Huang is a co-founder and CEO of Significance Dental Specialists, a renowned speaker, author and business strategist and a board certified periodontist. Dr. Huang is also the CEO of his own dental implant company, Altosbiotech, LLC. Dr. Victoria Chen, a co-founder and CEO of Significance Dental Specialists, is also a respected lecturer, author and orthodontist, offering the latest, innovative orthodontic care. Dr. Jeffrey Wang is a board certified periodontist and implant specialist and is committed to restoring and maintaining health while improving the aesthetics of the mouth. Dr. Vinnie Chen, a co-founder of Significance Dental Specialists, is a board certified endodontist and active member of numerous professional organizations including the American Dental Association and American Association of Endodontics. To learn more about the services Drs. Huang, Wang, or Chen provide at their four office locations please visit their website at http://www.sdsdental.com or call 702-547-9977 for the Apache Road office, 702-733-0558 for the Harmon Avenue location, 702-233-9988 for the Cascade Valley office or 702-647-8114 for the Craig Road location.