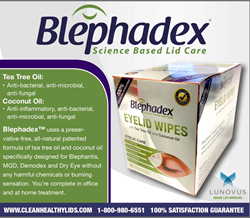 Birmingham, AL (PRWEB) February 01, 2017
Lunovus is proud to announce the launch of its new patented Blephadex Science Based Lid Care Line. Blephadex was developed to help the 80 million plus Americans that suffer from dry, itchy, crusty, and irritated eyelids. "Many people have been forced to live with what they thought was chronic blepharitis until recently, when they learned that there are tiny mites or bugs living on their eyelids that are the cause of their never-ending discomfort" said Lunovus President Jeffery McAnnally. "I wished we could have developed Blephadex sooner because we have been treating the symptoms of blepharitis, rosacea, MGD, and chronic dry eye for years, and now we can effectively treat the problem at its source."
Demodex is a microscopic mite that is a normal inhabitant of human facial skin, and has been long considered a potential culprit in rosacea flare-ups. Blephadex's patented formula is made up of Tea Tree and Coconut oils which has been medically proven to be the only way to treat Demodex mites.
About Lunovus
Lunovus, formerly Macular Health, was founded in 2003 by Jeffery McAnnally, President, and Dr. John O. Mason III, a retina specialist at the UAB Callahan Eye Foundation Hospital. Today, Lunovus's products are sold throughout the world and the company is a leader in the ophthalmic nutrition and technology industry. Our focus is not only on healthy vision but also on creating innovative delivery methods to enable our customers to have better choices when selecting eye care products.
Visit http://www.lunovus.us for more information.