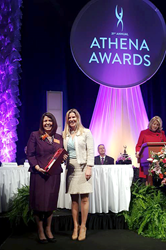 "We're excited to have leaders like Kim that consistently remind us of who we are inside and outside our organization," Said CaterTrax co-founder and CEO, Rich Rund.
(PRWEB) January 26, 2017
CaterTrax rallied in celebration for their Vice President of Marketing, Kim Hoffman, at the 31st Annual ATHENA Awards last week. Presented by the Women's Council of Rochester in partnership with the Greater Rochester Chamber of Commerce, Hoffman was a finalist for the 2017 ATHENA Young Professional's Award where she was honored among 22 Rochester women for demonstrating excellence, creativity, and initiative in her profession.
"Kim has played a key role not only in the strategic direction of her department, but has been instrumental in defining and refining the company's vision as a whole. Her ability to transition "big-ideas" into executable projects and programs that create real value is something that makes her truly special. Couple that with her big personality and genuine care for all CaterTrax employees, and you have an executive who brings it all to the table," shared Jed Sherman, CaterTrax Chief Operating Officer, who joined Hoffman, her family, and the CaterTrax team at the ATHENA Awards Luncheon last Thursday.
The women honored at the luncheon collectively represent the ATHENA leadership model, a philosophy inspired by the goddess Athena, that identifies eight tenets that are reflective of women's contribution to leadership including: Authentic self, strong enduring relationships, giving back, trust in collaboration, courageous acts yielding an ability to push beyond obstacles, lifelong learning, fierce advocacy, and celebration and joy for happiness and success in others as much as themselves.
"We always say it is our people that make us successful," said CaterTrax co-founder and Chief Executive Officer, Rich Rund. "We feel fortunate to have had Kim with our company for the past five years and are very proud of her. In a way, the ATHENA attributes feel like an extension of our own core values as they describe the qualities that make Kim a true Ambassador of Hospitality. Kim's honor showcases that these values we share as a company aren't just corporate jargon but truly represent the character of people that make-up our organization and we're excited to have leaders like Kim that consistently remind us of who we are inside and outside our organization."
Hoffman joined CaterTrax in July 2011 as the Director of Marketing. When she joined the company she was volunteering with CDS Monarch and influenced a policy to allow all employees time out of the office to volunteer and give back to the community. Today, every CaterTrax employee is given a paid service day upon hire and the company participates annually in United Way Day of Caring. Hoffman also encourages her direct team to be involved, giving them flexibility in their schedules to pursue their community interests like American Marketing Association, Foodlink, and coaching at Nazareth Soccer. Hoffman dedicates her own free time to Cobras FC as a Tournament Committee Member, Board Member, Club Photo Coordinator, and GU13 (girls age division 13) Assistant Coach and Team Manager.
About CaterTrax
CaterTrax is an industry leading catering management software company that is built by caterers for caterers. Primarily serving the non-commercial foodservice industry, CaterTrax provides flexible solutions to multi-unit contractors across the United States and Canada, streamlining enterprise management for the largest managed hospitality providers in the country. Affectionately referred to as TRAXERS, over 7,500 operators, across multiple lines of business, use CaterTrax's TRAX Platform to manage their business - read their stories here.