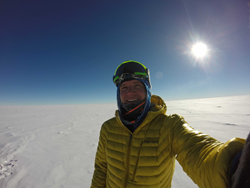 My ultimate goal is to bring hope to the millions, if not billions, of people worldwide who have been touched by cancer.
BRECKENRIDGE, CO (PRWEB) January 25, 2017
Sean Swarner announced today that he will be journeying to the North Pole in April, making him the first cancer survivor to complete "The Explorer's Grand Slam," consisting of summiting the seven highest peaks and both poles. Swarner will not only commemorate this historic feat – comprised of skiing and sledge hauling – but will bring 100,000 people affected by cancer along on the journey.
Sharing in his adventure, Swarner will add 100,000+ names of those touched by cancer onto a flag he will carry with him to the top of the world, encouraging these fighters, survivors, and caregivers to overcome their own extreme challenges. With a number of sponsors currently on board, donations will be given to various philanthropic charities to help find a cure and drive awareness, including the CancerClimber Association. The CancerClimber Association's objective is to give other survivors the opportunity to live adventurously and instill hope within the cancer community, using those experiences and personal work in their own communities to directly inspire those affected by the disease.
"It's really important that we continue to spread hope to those touched by cancer, both for this particular expedition and throughout the next few months leading up to it through hospital visits and encouraging these patients and survivors that anything is possible," said Swarner. "Bringing one hundred thousand people to the top of the world is something that's never been done before, and I am so excited to, literally, lift these individuals up higher than they ever thought possible."
Swarner added: "My ultimate goal is to bring hope to the millions, if not billions, of people worldwide who have been touched by cancer. I want to spread a message of healing and triumph with cancer patients around the world, in addition to raising funds and awareness."
Interested in partnering or want to get involved? Email missionofhope(at)digitalbrinq(dot)com to learn more. Join Sean Swarner on his expedition to the North Pole, and follow his trek at http://www.seanswarner.com/missionofhope and on Facebook, Instagram, and Twitter.
Sean Swarner:
Sean Swarner is unstoppable. More than just a two-time cancer survivor, he is also an author, inspirational speaker and co-founder of The CancerClimber Association. Voted one of the top eight most inspirational people of all time, Sean was the first cancer survivor to summit Mount Everest. Today, he offers hope through inspiration to cancer patients and survivors alike by focusing on living an active, healthy lifestyle. Sean's first book "Keep Climbing" has inspired many to reach their peaks of success. He is currently promoting the release of his new e-book series, "7 Summits To Success." For more about Sean, visit http://www.seanswarner.com.
###