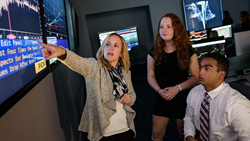 "The ability to visualize and analyze multidimensional data is becoming a crucial component for corporate success and decision making." - Dakota Wixom '17
Hoboken, N.J. (PRWEB) January 24, 2017
When Stevens opened the Hanlon Financial Systems in 2012, it demonstrated the university's leadership in teaching students about, and powering research into, how technology and data were poised to create upheaval for managers in finance.
Not even five years later, the continuing evolution of that technology — and the creative ways it is disrupting finance — has driven Stevens to open the Hanlon Laboratory for Financial Analytics and Data Visualization. It's a testament both to how fast technology is causing seismic changes in this industry and to Stevens' leadership in thinking about how tech-savvy managers can make smarter decisions faster in a data- and analytics-driven world.
"Data coming through the financial markets today is immeasurably faster and more detailed than just 10 years ago — humans are unable to analyze this information alone in time to think strategically or react to major events," said Dr. George Calhoun, director of the Hanlon Financial Systems Center and of the undergraduate Quantitative Finance program at the School of Business. "People must be able to use analytic engines to visualize the data, or they will be unable to respond to fast-developing market opportunities."
Changing how students learn
The new facility — called Hanlon 2 for short — was made possible through the continued generosity of John J. "Sean" Hanlon IV '80 and his wife, Cathy, whose support also enabled the construction of the first Hanlon lab.
"This new lab will improve how students learn, enhancing both their technology and business skills and better positioning them to manage evolving technologies when they enter the workplace," said Sean Hanlon, a Stevens trustee and chairman and CEO of Hanlon Investment Management.
Business students said they're acutely aware of the value the skills taught through the lab provide in the workplace.
"In an increasingly digital and data-driven marketplace, the ability to visualize and analyze multidimensional data is becoming a crucial component for corporate success and decision making," said Dakota Wixom, a Quantitative Finance student who will graduate in the spring of 2017.
Wixom, who has done internships related to quantitative investment banking and risk for Charles Schwab and Mizuho, said Hanlon 2 puts Stevens at the forefront of educating new pioneers in data analytics.
"The new lab is Stevens' response to the digitization of the workplace and the democratization of data analysis," Wixom said. "Just like an engineer needs a design lab, a data scientist needs the tools and technologies available in the Hanlon labs."
Rethinking a business curriculum
The lab's capabilities are unique in higher education. In addition to data visualization technologies and the hardware required to allow for the analysis of enormous data sets, Hanlon 2 includes collaborative Oblong technology that encourages students to introduce their own work and findings into the class discussion through screens that they can access via smartphone or laptop. The technology also allows guest speakers to contribute to a lesson from anywhere in the world.
"This lab is changing how students learn, and better positioning them to manage evolving technologies when they enter the workplace," said Dr. Gregory Prastacos, dean of the School of Business at Stevens. "And these high-level interactions — with data, with faculty, with guest speakers and with the rest of the class — help students take their presentation and communication skills to an even higher level, representing incredible value to employers."
The school's emphasis on both data and analytics, and how to apply them in business and communicate recommendations effectively to leaders, is why students are so coveted in industry. For the Class of 2016, 100 percent of business graduates were employed or attending graduate school within six months of commencement.
And the tools available in the lab have applications outside quantitative finance. The new business major in Accounting & Analytics, as well as graduate management programs, emphasize analytics-driven decision making.
"The data science revolution is going to change every business model — banking, selling toys, drugstores, they're all being pulled into it," Dr. Calhoun said. "The ability for managers to extract important signals, and to present them in a way that's relevant to the decisions companies have to make, will be invaluable in tomorrow's job market — and our students will be fully prepared."
About Stevens Institute of Technology
Stevens Institute of Technology, The Innovation University®, is a premier, private research university situated in Hoboken, N.J. overlooking the Manhattan skyline. Founded in 1870, technological innovation has been the hallmark and legacy of Stevens' education and research programs for more than 145 years. Within the university's three schools and one college, 6,600 undergraduate and graduate students collaborate with more than 300 full-time faculty members in an interdisciplinary, student-centric, entrepreneurial environment to advance the frontiers of science and leverage technology to confront global challenges. Stevens is home to three national research centers of excellence, as well as joint research programs focused on critical industries such as healthcare, energy, finance, defense, maritime security, STEM education and coastal sustainability. The university is consistently ranked among the nation's elite for return on investment for students, career services programs and mid-career salaries of alumni. Stevens is in the midst of a 10-year strategic plan, The Future. Ours to Create., designed to further extend the Stevens legacy to create a forward-looking and far-reaching institution with global impact.