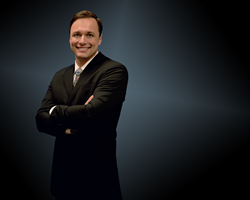 "I look forward to working with a team of professionals dedicated to providing the best patient outcomes every time and ensuring that every patient has the ultimate experience."
(PRWEB) January 26, 2017
Since graduating from the Ivy League medical school at Dartmouth, Dr. Kosowski has made a name for himself as an innovative and accomplished plastic surgeon. But behind the polished skills is a man who understands the art and science of the human body and how to redefine beauty for each and every patient.
Dr. Kosowski attended his hometown college, the University of New Mexico in Albuquerque, where he graduated with three degrees: a bachelor's in music (guitar performance), a bachelor's in biochemistry, and a master's in biomedical sciences. He then moved to New England where he attended Dartmouth Medical School, serving as the President of his class.
While he was working towards his medical degree, Dr. Kosowski also attended the Tuck School of Business at Dartmouth, and he graduated in 2007 with his MD and MBA.
He honed his surgical skills at Dartmouth-Hitchcock Medical Center where he completed a 6-year general surgery/plastic surgery residency program. In addition to residency, he has completed three plastic surgery fellowships to augment his training: at Memorial Sloan-Kettering Cancer Center in New York, at the Miami Breast Center with Dr. Roger Khouri, and at Mark Codner Plastic Surgery in Atlanta. He has extensive training in fat grafting, particularly when used in breast surgery, and is a recognized expert in face-lifting surgery.
He recently completed a landmark study and publication entitled "Tissue Engineered Autologous Breast Regeneration with Brava Assisted Fat Grafting." As a pioneer in the use of native fat for breast and buttock enhancement, Dr. Kosowski is optimally positioned to become a national leader in this exciting and growing subspecialty in cosmetic surgery.
Dr. Laufer took care in selecting the very best surgeon to join the team and share his talent and skill with new and existing patients. Dr. Kosowski looks forward to this inspiring new opportunity. "I am really excited to be working with Dr. Laufer and exceptional staff at Laufer Institute. The Institute is state-of-the-art and maybe one of the best not only in Florida but the country. I look forward to working with a team of professionals dedicated to providing the best patient outcomes every time and ensuring that every patient has the ultimate experience."
Dr. Kosowski specializes in aesthetic surgeries of the face, body, and breasts, including facelifts, tummy tucks, mommy makeovers, breast augmentation, liposuction, and more.
Call today to schedule your Free Consultation @ 727-400-4768 or visit us at http://LauferInstitute.com