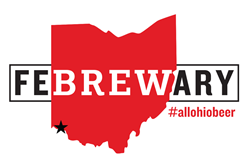 Cleveland, Ohio (PRWEB) January 25, 2017
New year, new beer. The Rail, one of northeast Ohio's staple craft beer and burger bars, is bringing back beer-centric FeBREWary for a second straight year.
While the exciting event will once again feature rare Ohio craft brews that can't be found anywhere else, The Rail has stepped up their game by expanding the map and featuring a lot more beer. Restauranteur Mike Mariola's other two creations, Ohio Beer Garden in North Olmsted and City Square Steakhouse in Wooster, Ohio, will also be taking part in the fun.
The Rail's affinity for everything Ohio is already well known amongst northeast Ohioans, evident by their use of local ingredients and Ohio only brews. 2017's FeBREWary however, will up the ante by offering rare, delicious craft beers that won't be available at any other space in Ohio.
"We've always known Ohio is on the forefront of the craft beer scene," says Mike Mariola, award-winning chef turned restauranteur and craft beer aficionado. "That's why we created FeBREWary. It's the perfect opportunity to showcase some of our favorite Ohio beer and have other local fellow beer lovers join us."
Mariola's deep involvement in the event even has him driving a U-Haul across the state to pick up these highly coveted kegs.
These scarce brews will spread across the style board and include Driftwood IPA, Daybreak Clear Sky Cream Ale and Hop Smoothie IPA from the Columbus-based Wolf's Ridge Brewing. Gamma Bomb IPA, Trotwood Lager and Jolly Tar Dark Brown Ale from Dayton's Warped Wing Brewery as well as A-Crop Blacklight Stout and Wee Heavy Scotch Ale from Zaftig Brewing in Columbus.
Follow the FeBREWary journey on The Rail Burger Blog and on social media at The Rail's Facebook page and on Twitter @TheRailBurger. 
Downloadable high-resolution photos can be found here.