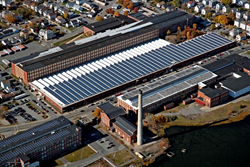 This unbelievable marriage of old and new is unique to a building built in 1909. —Phil Cavallo, President & CEO, Beaumont Solar Co.
New Bedford, MA (PRWEB) January 25, 2017
Beaumont Solar, a leading, full-service solar developer and Engineering, Procurement & Construction (EPC) Company, and Joseph Abboud MFG Corp, maker of tailored clothing for sophisticated, modern, stylish men, announced today the successful completion of a 1.3 MW solar rooftop project on Abboud' s manufacturing facility, located in New Bedford. The partnership brings together seemingly disparate industries in a new and innovative way, resulting in US-based manufacturing jobs, and clean energy – under one proverbial, and literal roof. The electrical workmanship has been completed by IBEW Local 223 members, providing yet another way of leveraging local labor for economic growth and development.
"This unbelievable marriage of old and new is unique to a building built in 1909, a saw tooth design that has 43 consecutive rows with a 22 degree tilt and facing 180 degrees due south to the sun, simply put the old building is perfect for solar power. Energizing the Joseph Abboud manufacturing facility with solar power is the quintessential bottom line – men's suits made in America, powered by the sun, and built with local labor," said Phil Cavallo, President and CEO of Beaumont Solar. "We are very pleased to have achieved these goals and to have kept local jobs by partnering with the JAMCO team and with Tailored Brands, the corporate owner of the Joseph Abboud brand and factory."
Working closely with the finance, facilities, and operations teams from Joseph Abboud and Tailored Brands, Beaumont Solar developed a comprehensive, full-lifecycle project plan. The 1.3 MW, 4,127 solar modules project was constructed on a challenging 272,000 square-foot roof with 43 saw tooth roof sections that enabled Beaumont Solar to showcase its engineering and construction expertise, while still meeting utility and regulatory deadlines. The solar array is expected to produce approximately 1.7 MWH of electricity annually.
"When you look at our facility, you immediately see a big, tall smokestack across the street," said Anthony Sapienza, President of Joseph Abboud. "This is how our facility used to get powered, first with coal and then with oil. Now we are almost completely self-sufficient, producing our own clean energy, without emissions, and significantly reducing our energy costs. These savings we can immediately put to use to benefit our company, our people, and ultimately our customers. The value of solar is unbeatable."
With US manufacturing jobs disappearing, and skilled labor opportunities also on the decline, Beaumont Solar and Joseph Abboud's partnership illustrates how businesses are creatively evolving, addressing ever-shrinking margins, and rising above competitive noise. The electricity generated in-house will enable Abboud to directly offset its electric utility load, in addition to receiving Solar Renewable Energy Credits (SRECs) from the Commonwealth for the next ten years.
"The City of New Bedford is a nationally recognized leader in renewable energy having installed more solar capacity on a per capita basis than any other city in the continental United States. Our solar energy projects produce clean, renewable energy, were installed by local workers, and are saving city taxpayers millions of dollars on utility costs. The particular project we celebrate today is emblematic of the kind of out-of-the-box thinking that has made Joseph Abboud MFG Corp. an industry leader," said New Bedford Mayor Jon Mitchell.
Large load consuming commercial and industrial (C&I) businesses looking to significantly cut their energy spending are seeing immediate financial benefits by switching to abundant solar energy to power their businesses. Grid parity for solar has been achieved, and for forward-thinking companies, solar has provided returns better than most market alternatives, in addition to benefits such as; tax incentives, control over rising energy prices, reduction of Green House Gasses (GHG), and sustainability, just to name a few. With a variety of financing options available, and flexible design and construction services, operation and maintenance (O&M) support, Beaumont Solar helps customers achieve their business goals.
About Beaumont Solar
Beaumont Solar is a leading, full-service solar developer and Engineering, Procurement & Construction (EPC) company. We specialize in the development, design, building and long-term operation & maintenance (O&M) of solar systems in the commercial & industrial (C&I), utility, agriculture and public sectors. With a long history dating back to 1918, we have the experience, infrastructure and expertise to help maximize the value of underutilized assets (rooftop, carport, landfills, hazmat sites, and land). We help structure financing; both debt and tax equity, provide off-taker power agreements and ground or rooftop leases and determine site feasibility. Beaumont works closely with customers to help them meet financial, energy and sustainability goals by identifying the most efficient systems and cost effective financing. With offices in MA, RI, and NJ, we provide installation and support across the USA. To learn more, please visit http://www.beaumontsolarco.com.
About Joseph Abboud, a wholly owned subsidiary of Tailored Brands
Tailored Brands, Inc. is a leading authority on helping men dress for work, special occasions and everyday life. We serve our customers through an expansive omni channel network that includes over 1,700 locations in the U.S. and Canada as well as our branded ecommerce websites. Our brands include The Men's Wearhouse, Jos. A. Bank, Joseph Abboud, Moores Clothing for Men and K&G Fashion Superstores. We also operate a global corporate apparel and work wear group consisting of Twin Hill in the United States and Dimensions, Alexandra and Yaffy in the United Kingdom.
For additional information on Tailored Brands, please visit the Company's websites at http://www.tailoredbrands.com, http://www.menswearhouse.com, http://www.josbank.com, http://www.josephabboud.com, http://www.mooresclothing.com, http://www.kgstores.com, http://www.mwcleaners.com, http://www.twinhill.com, http://www.dimensions.co.uk and http://www.alexandra.co.uk.