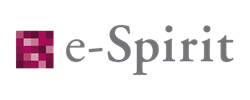 Boston, MA (PRWEB) January 25, 2017
e-Spirit, the Content Experience Hub company, today announced that for the first time in its history, the FirstSpirit™ content management system has been included in the Forrester Wave™. The new research report, entitled "The Forrester Wave™: Web Content Management Systems, Q1 2017" evaluates the 15 most significant vendors on 25 criteria, including current offering, strategy, and market presence.
As web content management (WCM) software has become critical to the evolving marketing technology stack, companies are looking for solutions that enable them to communicate with customers regardless of where those customers are or what device they are using. Forrester's report evaluated vendor solutions on the topics of content and multichannel experience management.
Cited as a "Contender," Forrester noted that FirstSpirit is a traditional, on-premises and licensed software solution today with solid chops to manage content independent of presentation, and references leveraged this strength across many languages and countries. The report also noted that the company's vision and roadmap outshine the current offering by focusing on a new Content-as-a-Service offering released in September 2016.
"We are thrilled to be included in the Forrester Wave for the first time," said Joern Bodemann, CEO of e-Spirit. "We are continuously evolving our capabilities to help clients future-proof their marketing technology stack and deliver on their content strategies, and we believe inclusion in the Wave is evidence and validation of our progress."
More About FirstSpirit
FirstSpirit makes the opportunity to turn digital content into revenues a reality – not just a pipe dream. Customers demand great digital experiences across all channels, and that demand is changing the way content is delivered. Content-as-a-Service (CaaS) is the surest way to deliver content with the speed and consistency needed to satisfy customers on their channel of choice – emerging or existing – whether via website, store, wearable, Internet of Things, social network, smart device or app.
A rapidly evolving marketplace demands a digital marketing infrastructure that supports overall readiness and ability to quickly adapt. FirstSpirit was built to support agility and interoperability from its inception, making it the best-of-breed content experience hub for companies intent on delivering exceptional omnichannel experiences not just now, but in the future as well.
Visit e-Spirit.com/us/wave for a full copy of the analyst report.
About e-Spirit
e-Spirit changes the way companies in every sector monetize their content. It is a leader in enabling companies to unlock the value of digital content and transform the way they communicate with customers and employees. FirstSpirit combines all systems, applications, data and content required for the design of engaging customer experiences to create a central digital content hub. It gives companies the required infrastructure for efficiently supplying increasingly large quantities of (personalized) content for increasing numbers of channels and touchpoints along the customer journey, allowing them to systematically reach customers worldwide.
With FirstSpirit, FirstSpirit Cloud and FirstSpirit CaaS, e-Spirit offers users diverse solutions for significantly accelerating the time-to-market of their communication for products and brands and rolling out digital marketing measures target group specific and in real time.
e-Spirit was founded in 1999, is part of the adesso Group and has offices in 16 locations in the US, Germany, Great Britain, the Netherlands, Switzerland and Austria. Customers include international brands and corporations such as L'Oréal Luxe, BASF, Bosch, Commerzbank, EDEKA, MAN, Media-Saturn and many others. http://www.e-Spirit.com
e-Spirit Inc.
One Cranberry Hill, Suite 100
Lexington, MA 02421, USA
+1 781 862 5511
us-info(at)e-Spirit.com
http://www.e-Spirit.com