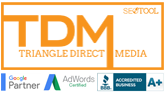 Dynamic ads are a complementary tool for retargeting customers and encouraging purchases.
Cary, NC (PRWEB) January 26, 2017
Triangle Direct Media (TDM), an industry leader in online marketing with a focus on social media management, search engine optimization, and local search, is pleased to announce the addition of Facebook Dynamic Ads to its list of client services. This new addition gives TDM the ability to help online retailers set up and utilize Facebook's popular advertising tool to retarget website visitors, promote specific inventory, and increase sales conversions.
Facebook Dynamic Ads allows businesses to upload and create custom product catalogs that will be displayed to users that have previously visited the business's website or viewed certain items. This marketing method, more commonly known as retargeting, yields higher conversion rates and better ROI than static ads and banner ads because it delivers relevant content that users are already interested in seeing.
But simply signing up for dynamic ads and installing the Facebook pixel code on a website is not enough to guarantee success. For best results, expert guidance is required to curate, deploy, and manage dynamic ad campaigns, which is where TDM comes in.
"Our team has spent a lot of time evaluating and testing the different variables involved in creating Facebook dynamic ads, so we know what works and what doesn't," says TDM president Anthony Feriozzi. "We use this knowledge to help our clients optimize their campaigns so they can get the most out of Facebook dynamic ads without all the trial and error typically associated with new marketing efforts. So far the results have been amazing, and since we're constantly reviewing and refining our process, we expect even better things in the future."
Feriozzi believes Facebook dynamic ads are most effective when combined with other online marketing platforms, including social media, local search, and search engine optimization. "Dynamic ads are a complementary tool for retargeting customers and encouraging purchases, but businesses must still use other avenues to ensure customers receive that initial impression. TDM can help integrate all of these platforms into a comprehensive marketing strategy that will reach more customers and sell more products and services."
To get started with Facebook dynamic ads or learn more about the suite of online marketing services Triangle Direct Media offers, please visit http://www.triangledirectmedia.com/ today.