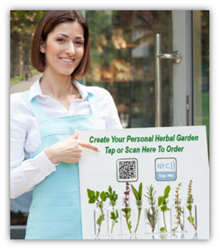 myTrackBuddy App-Ready SmartTag (TM) turns print media into high-tech devices.
Santa Rosa, CA (PRWEB) January 25, 2017
myTrackBuddy introduces the first ever "App-Ready SmartTag" ™ that turns print media into high-tech devices.
The "App-Ready SmartTag" uses NFC tag and QR code as the portal to the app. Users simply place the SmartTag sticker on print media such as posters, signs and labels, and it's done.
Users can launch the app directly on their phone. As an example, the app sends out a refill request automatically when inventory starts to run low - a great feature for suppliers. It also helps customers to place an order directly on their phone - another great feature for retailers.
myTrackBuddy covers applications from customer engagement to inventory tracking to service log recording to time card processing. In order to fully explore the potential of this new category of product, myTrackBuddy wants to work with the industry directly.
myTrackBuddy is launching a no-fee White Label Program for vendors who have the capacity to take this product to the market and discover new usages.
"NFC and QR code have been around for a number of years, but without applications, it sure limits the potential of these technologies." said John Lindgren, Vendor Program Director. "Besides applications, myTrackBuddy has taken "App-Ready SmartTag" a step further. It collects log data and user submitted data that can be used for statistical analysis. You can optimize your inventory distribution plan or improve your work flow. The possibilities are endless."
Please visit our web site myTrackBuddy.com for more information on products and vendor programs.
About myTrackBuddy
Founded in the heart of Silicon Valley, myTrackBuddy is composed of a group of experienced software engineers and seasoned entrepreneurs. The company is funded by private investors. Our first and foremost goal is to make sure we understand and identify our customers' challenges and provide the most sensible solutions to them. We strive to not get caught up with the pressure of growing fast and growing big as many Silicon Valley startups do. We want to open up our platform by working with the industry directly so that both parties can benefit from the collaboration.