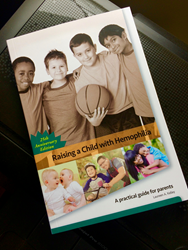 In this fifth edition, Raising a Child with Hemophilia has never been more relevant, especially in today's complex healthcare environment.
Georgetown, MA (PRWEB) January 26, 2017
LA Kelley Communications, Inc. announced today that it has published the fifth edition of its groundbreaking book Raising a Child with Hemophilia: A Practical Guide for Parents.
Parenting a child with hemophilia is difficult in any circumstance, but less so with access to a comprehensive guide that carefully walks parents through each stage of their child's development. Raising a Child with Hemophilia, written by Laureen A. Kelley, shares practical information on child rearing, medical treatment, hospitals, insurance, complications, family relationships, and consumerism. It was the first book about hemophilia written by a parent, and the first to ever discuss pricing of, selection of and access to different therapies.
First published in 1991, Raising a Child with Hemophilia was an instant success and quickly became what many parents called the "bible" of hemophilia. It has been updated through the years to reflect changes in treatment and health insurance, and the advent of social media. The book details medical and scientific matters in simple language to allow parents to grasp complex concepts of manufacturing medicine and how blood clots. The book strongly encourages parents to become proactive advocates for their child with hemophilia through knowledge of bleeding disorders and cooperation with their healthcare team.
The book's authority comes from the collected wisdom of over 160 hemophilia families, garnered through interviews. The book is also meticulously researched and documented by Paul Clement, a former high school science teacher and father of a child with hemophilia.
Raising a Child with Hemophilia was published with a grant from CSL Behring, a worldwide provider of plasma therapies. CEO and Managing Director Paul Perreault writes, "In this fifth edition, Raising a Child with Hemophilia has never been more relevant, especially in today's complex healthcare environment. Through her writing, Laurie has initiated a new genre: parents of children with hemophilia now have a voice, they are empowered, and they are actively engaged on important topics with caregivers, policymakers, and other stakeholders. Her book continues to serve as a unique, stellar reference for hemophilia patients and their families."
This fifth edition marks the 25th anniversary of this unique resource. Funding from CSL Behring allows the book to be offered free of charge to families with hemophilia.
About LA Kelley Communications, Inc.
Founded in 1990, LA Kelley Communications has been a world leader of groundbreaking patient educational materials and programs on hemophilia and related bleeding disorders. With more than a dozen books, numerous publications, and the oldest hemophilia newsletter in America, LA Kelley Communications remains a trusted source of practical parenting and consumer information about bleeding disorders. The company also donates millions of dollars worth of blood-clotting medicine to patients and clinics in developing countries as part of its humanitarian program, Project SHARE. For more information, please visit http://www.kelleycom.com.
About CSL Behring
CSL Behring is a global leader in the plasma protein biotherapeutics industry. Users of its therapies rely on them for their quality of life and, in many cases, for life itself. With operations in more than 30 nations and over 14,000 employees worldwide, its broad range of therapies include biotherapies to treat such disorders as hemophilia and primary immune deficiencies, and vaccines to prevent influenza. The company collaborates with patient and biomedical communities to improve access to therapies, advance scientific knowledge, and support future medical research. For more information, visit http://www.cslbehring.com.
Hemophilia
Hemophilia is an inherited blood-clotting disorder in which excessive and prolonged bleeding occurs because of the absence or abnormality of one of 13 clotting proteins called clotting factors. Hemophilia A, a deficiency in factor VIII, also called classic hemophilia, accounts for about 80% of all people with hemophilia. Hemophilia B (also known as Christmas disease) accounts for about 15% of all cases. One-third of all new cases are spontaneous, with no known family history. Untreated bleeding can cause extreme pain, joint deformities, and even death. The incidence of hemophilia A is approximately 1 in 5,000 male births.