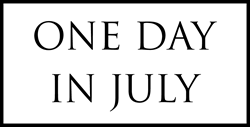 Burlington, VT (PRWEB) January 25, 2017
One Day In July, a Vermont financial advisory firm that helps individuals, non-profits, and businesses invest using low-cost index funds, today announced that Hans Smith has joined the firm as a financial advisor, effective January 2017. In his new role, Hans will work alongside One Day In July founder, Dan Cunningham, to bring long-overdue changes to Vermont investors.
"It's a pleasure to welcome Hans to the team," said Dan Cunningham, financial advisor and founder of One Day In July. "His passion for helping his clients build a portfolio with only their best interests in mind is a perfect fit for the mission of this firm. I look forward to having him on board as we work together to fix this broken investment advisory industry."
Smith developed a passion for investing early on, having studied the works of visionaries such as Benjamin Graham, Warren Buffet, Peter Lynch, and Jack Bogle. He followed his interest to the University of Vermont, where he earned his bachelor's degree in economics and business in 2003. Upon graduation, Smith changed course and took to the skies, where he landed his first career in the world of corporate aviation. He spent over ten years in the field flying a variety of jets and turboprops for various companies, before shifting back toward the financial world.
In 2014, Smith passed his Series 65 exam and became a registered financial advisor. After two years working in the investment world, Smith realized that the advisory industry was in need of a serious change and quickly worked to find a way to be a part of the solution and make a difference for his clients. Through education and collaboration, Smith has helped multiple clients revitalize their portfolios through low-cost, diversified index funds.
"It was really a series of serendipitous events that ultimately led me to join One Day In July," said Smith. "After meeting with Dan I knew that this was a company that truly understands what it means to do right by their clients and that's the kind of company I want to stand with. I'm pleased to join the One Day In July team, and look forward to educating and assisting investors in Vermont and beyond."
For more information on One Day in July, and to learn more about the firm's approach to investing, visit http://www.onedayinjuly.com.
###
About One Day In July
Vermont financial advisory firm One Day In July, based in Burlington, VT, helps individuals, non-profits, and businesses save and invest using low-cost index funds. Index funds are sweeping the nation, and they are one of the fastest growing trends in American investing and financial planning. By focusing on reducing fees for investors, including those of the financial advisor, One Day In July is bringing long-overdue changes to investors in Vermont and other states. To learn more about the services offered by One Day In July, please visit http://www.onedayinjuly.com.