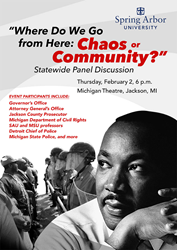 JACKSON, Mich. (PRWEB) January 25, 2017
On Thursday, February 2, Spring Arbor University will host "Where Do We Go From Here: Chaos or Community?" — a statewide panel discussion organized by Spring Arbor University's Office of Intercultural Relations and Black History Month Committee. 
The event begins at 6 p.m. and will be held in downtown Jackson's historic Michigan Theatre. The panel discussion will address the continued issues of racial barriers and illegal use of force in policing, and will serve as an opportunity for the community to come together for a candid discussion intended to foster empathy and understanding.
A wide array of notable participants include representatives from the Governor's Office and the Attorney General's Office, the Jackson County Prosecutor, the Michigan Department of Civil Rights, the Michigan State Police, the Detroit Chief of Police, and professors from both Spring Arbor University and Michigan State University.
Spring Arbor University is aware of the racial unrest in our state and nation, and the heightened tensions wrought by race-driven, post-election issues. Given this, the panel discussion will encourage participants and attendees alike to listen with open ears and open hearts, to enter into other perspectives and experiences without judgment or preconception. 
For more information on "Where Do We Go From Here: Chaos or Community?", please contact Eric Beda, director of SAU's Office of Intercultural Relations, at Eric(dot)Beda(at)arbor(dot)edu or 517-750-6891, or visit arbor.edu/unity.